In the continuation of our community guide series, we wanted to provide an update for those using Discord or interested in building a community on Discord. In the past year, Discord has introduced a number of features, most notably Forum channels that is described by Discord as "a place designed for focused discussions, not just free-range chatting", that may make the platform a more viable option for those starting a community.
Below, we'll walk you through an updated look at our community strategy perspective, tips on how you can grow a thriving community, and our community methodology we've built after years of working in the community space.
If you'd like to see strategies for other platforms, check out our guides for Facebook Groups, Twitch, YouTube, and Forums.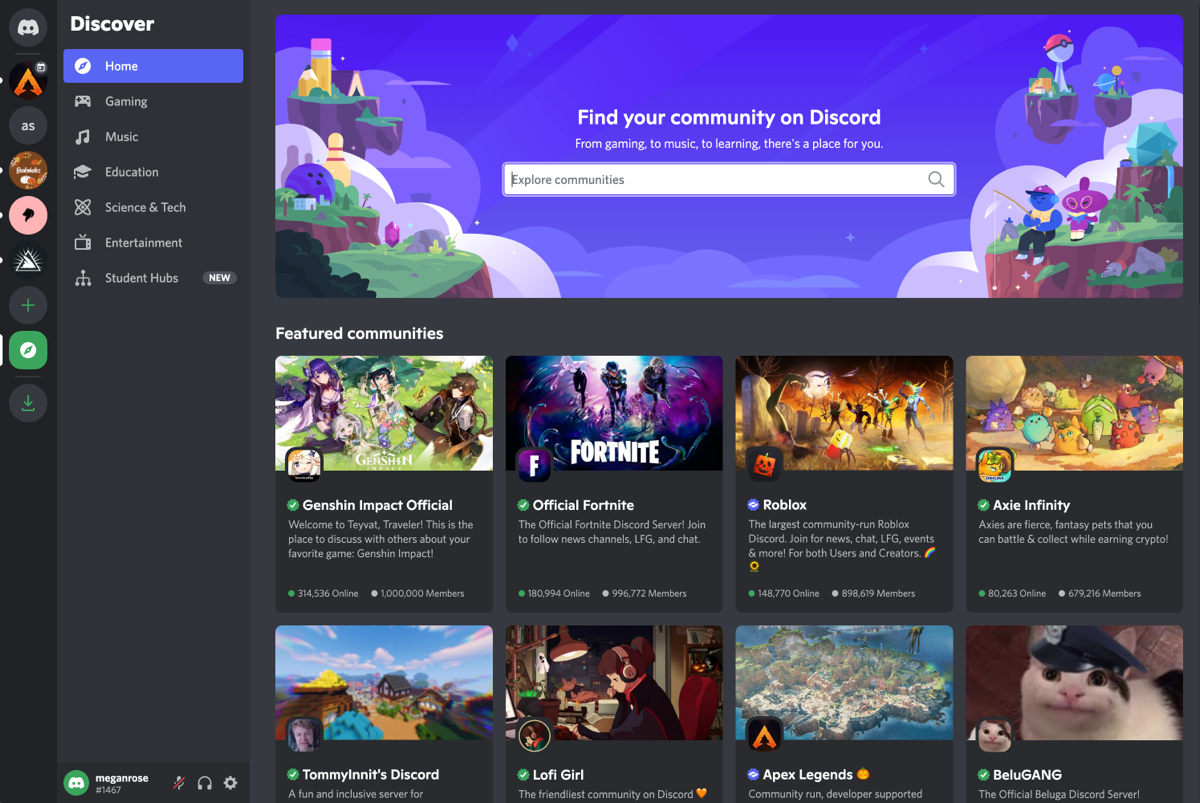 What is Discord?
Discord is a social platform using a variety of methods like real time chat, threads, voice calls, videos calls, and streaming to connect users to those with similar interests. As of 2022, Discord has 150 million monthly active users. (Source)
When should you use Discord for your community?
If you want a simple, out of the box setup
If you want to gain access to Discord's large user base to grow your server
If your community appeals to an audience primarily using Discord, such as those 25-34 (Source)
If you want multiple forms of engagement with your users, such as live chat, threads, forums, and voice calls.
Common use cases
Gaming
Content creators
Sports
Memes
Education
Drawbacks
Every community is unique, so you might find in your research that Discord isn't the platform for you and your community. A few drawbacks of using Discord are:
Limitations on the number of channels and users in your server
It can be difficult to compete against other servers with similar topics
Content discovery is limited in live chat channels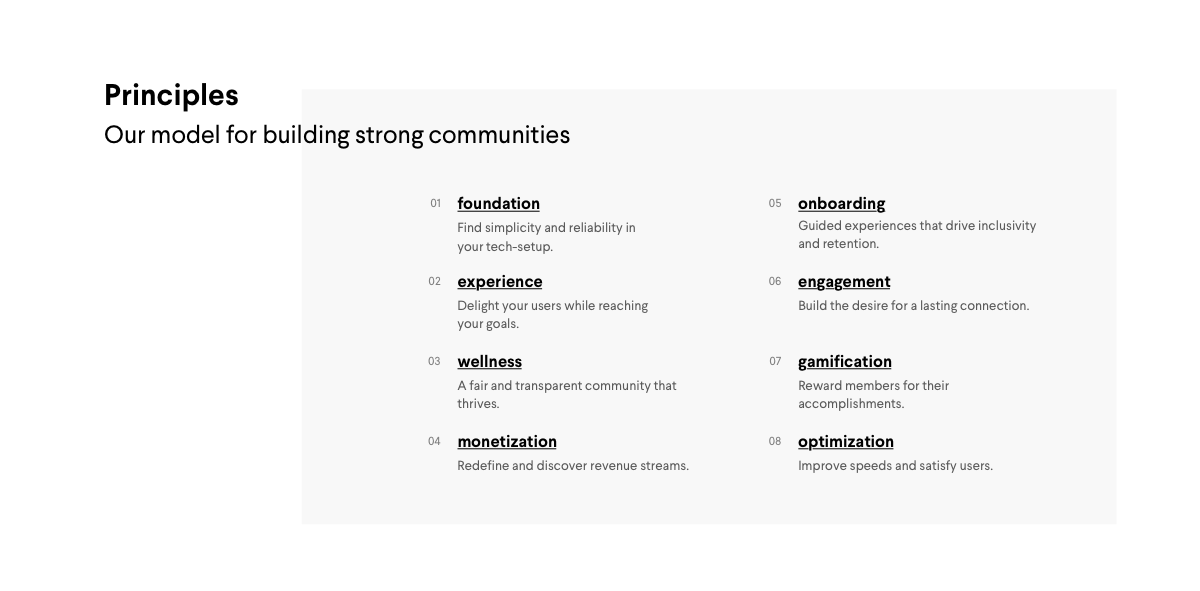 What are our principles?
In the beginning of this guide we mentioned a set methodology that we use to grow and manage communities successfully. Based on these principles, we've put together a few tips on how to apply these ideas to your community below.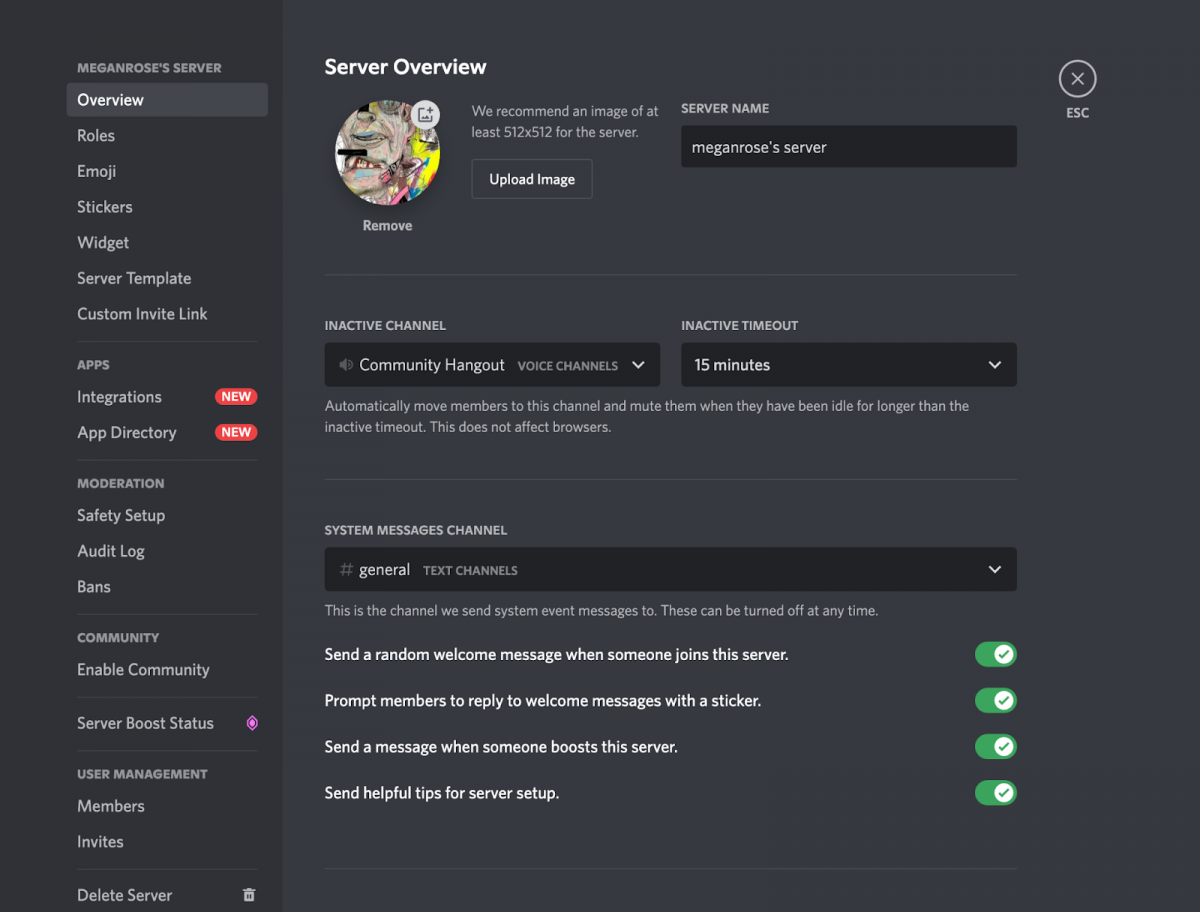 Foundation
Completing a competing server analysis to analyze features and setup of servers within your niche.
User stories to document the experience of your community members, focusing on new and seasoned users.
Pre-planning your channel configuration to ensure all topics are being covered effectively. Limit the amount of channels you have as too many can cause confusion.
Plan and document roles and permissions for general users, moderators, admins, and roles specific to your community.
Collect a list of recommended bots in order to improve engagement and experience within your server.
Consider configuration of bots or permissions in order to mitigate spam based on your server type and number of members.
Document the types of data being tracked and how it moves between different softwares in the event there is an external website or bot used to collect member data, we will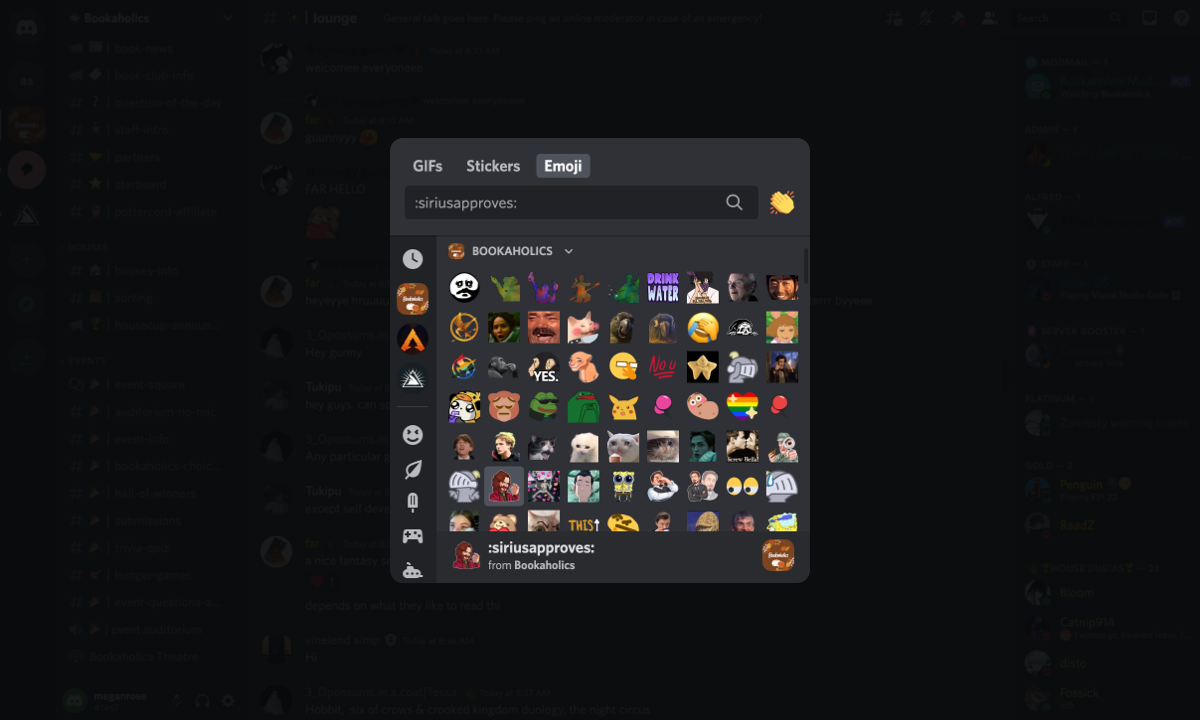 Experience
Boost your server to give your users extra perks like additional emoji slots, improved audio quality, server customizations, and more. If you'd like to see the full list of features check them out here.
Customize your server by considering logo, custom welcome screen, unique invite link, and additional options to make your server unique.
Design custom emojis specific to your community. Note: Discord Nitro communities can have animated emojis.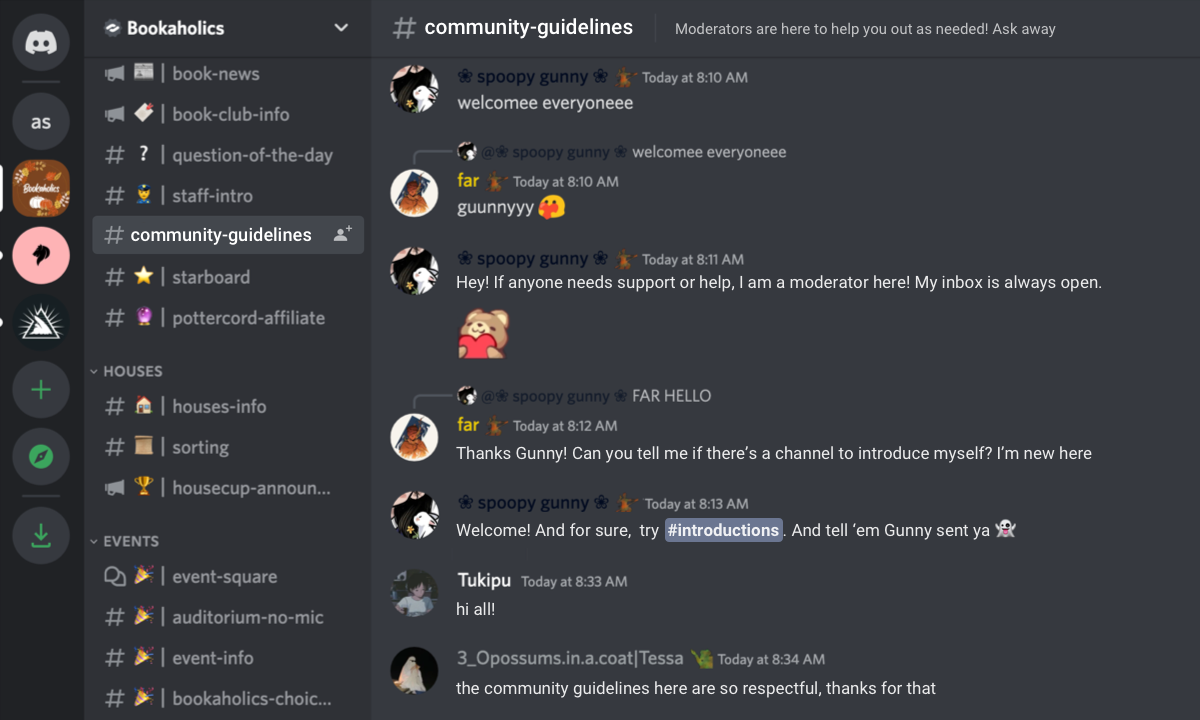 Wellness
Develop community guidelines or rules for how to act in the community. Rules should be easily accessible, not too specific, and enforced consistently.
Create staff guidelines to formalize roles for staff and moderators.
Monetization
Receive donations by providing a link to a PayPal account or set up a Patreon account to offer extra perks to supporters.
Offer subscriptions using Mee6 to share with everyone so they can see your tiers and subscribe there and a customizable link.
Consider being sponsored by companies within your industry or niche.
Your community may be interested in buying products, so you should offer products in your community and get a commission off of them by using affiliate links.
Create unique merch for those who would like to support your community using services like Printify or Printful for example.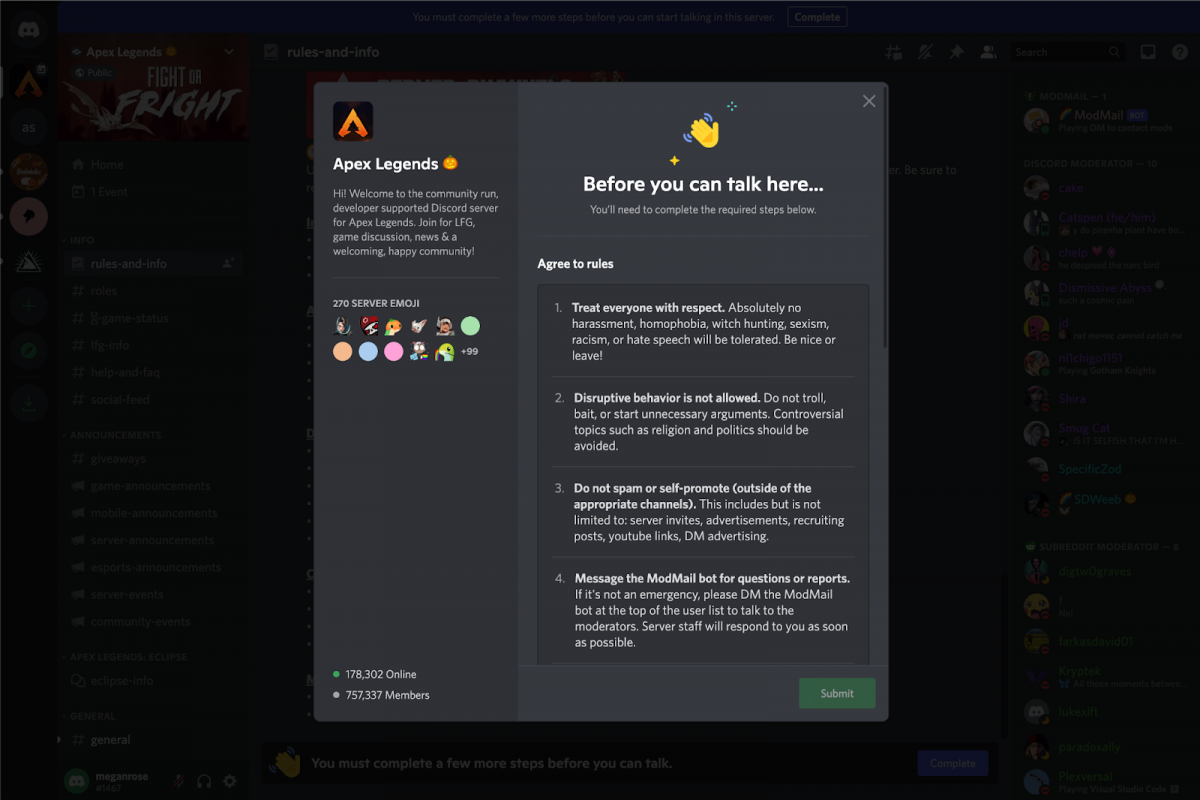 Onboarding
Display important content and channels in your welcome screen to quickly show users what your community is about.
Screen new members before they can engage in your community by adding a time minimum before sending a message, requiring a message upon entry, or requiring users to agree to community guidelines.
Develop a plan for how new users will be welcomed to your server, i.e. an introductions channel, staff on hand to welcome new users.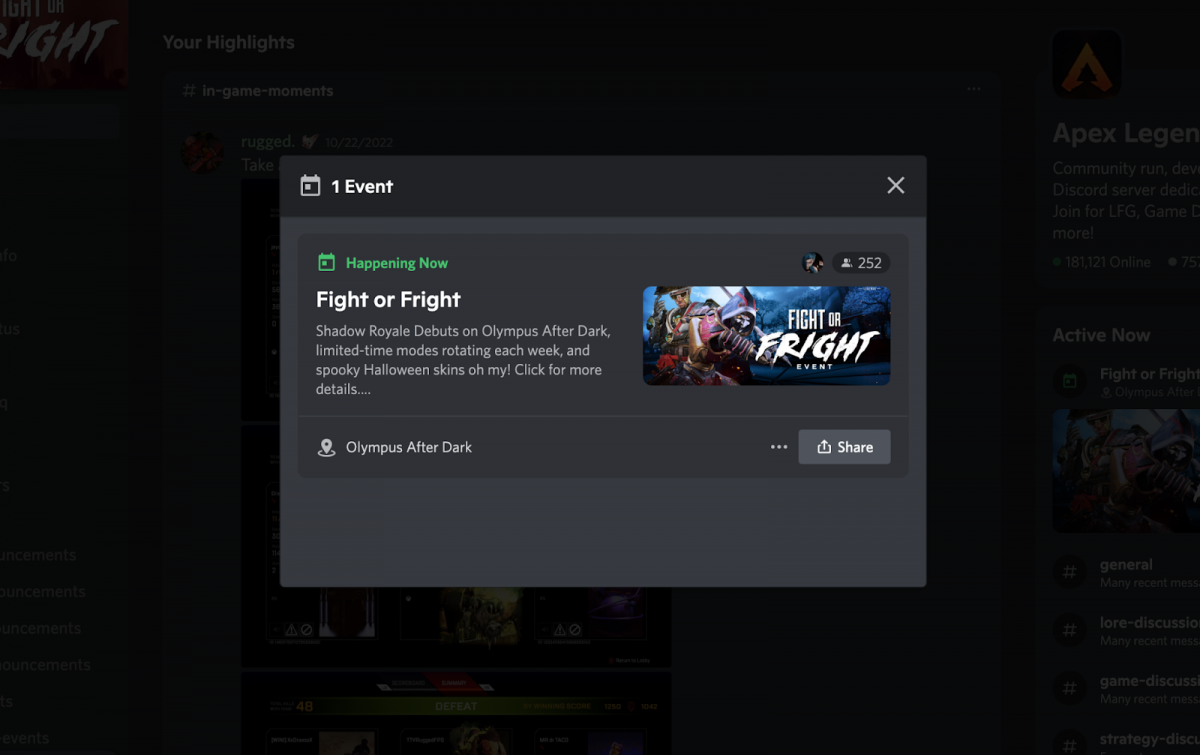 Engagement
Develop a promotion strategy for reaching your target audience outside of Discord.
Use Discord's Server Discovery feature to make your community more easily findable by those looking to join new communities.
Events should be additive to the experience and help users become more closely knit.
Increase engagement by running contests. Contests can be sponsored, about your niche topic, or more general.
Build specific programs focused on fostering different types of engagement in the community.
Surveying users in order to gauge the current state of the community and any room for improvement.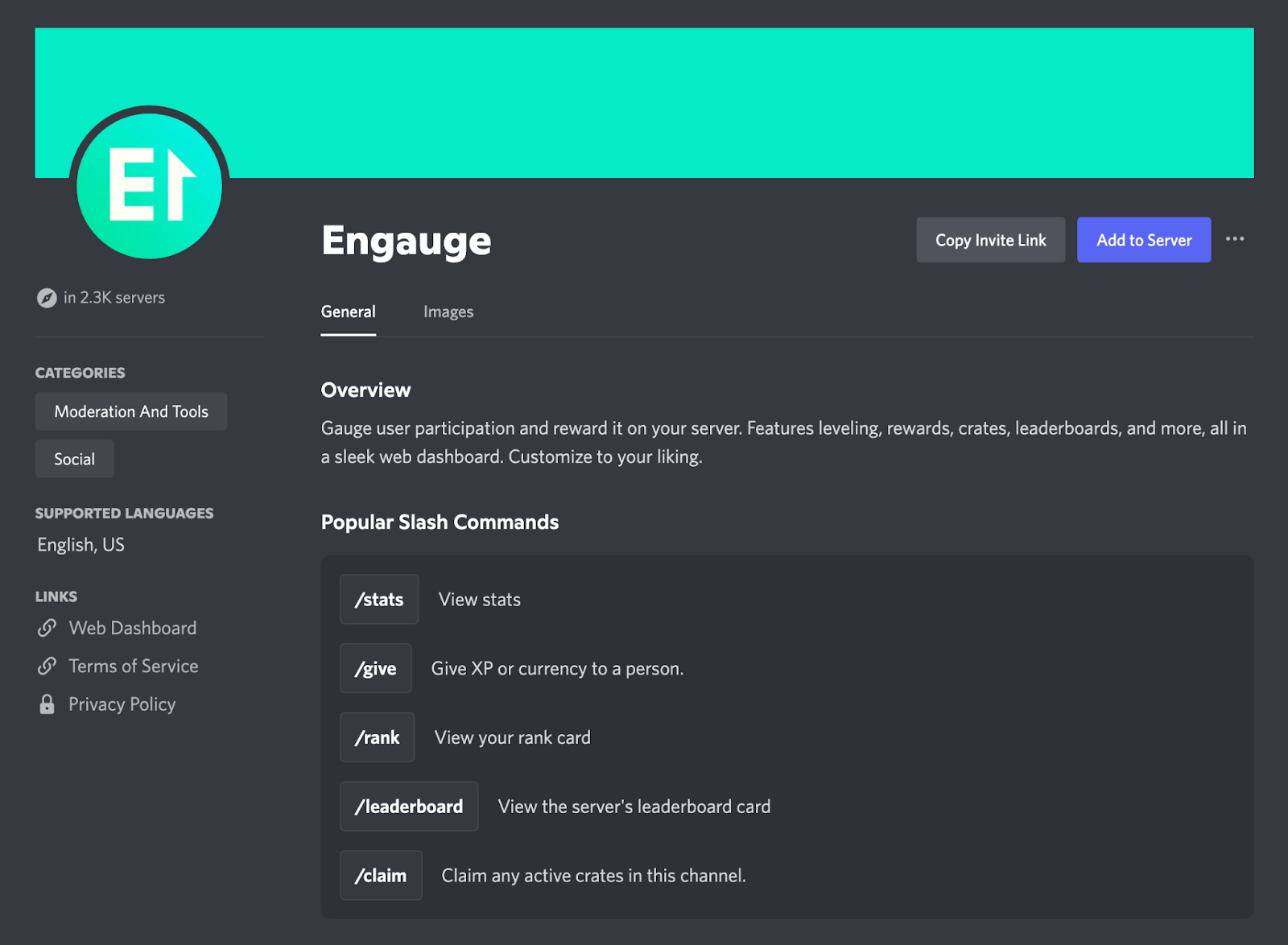 Gamification
Discord doesn't come with gamification out of the box, so we'll put together a list of bot recommendations based on how we'd like to gamify. A few gamification bots we love are: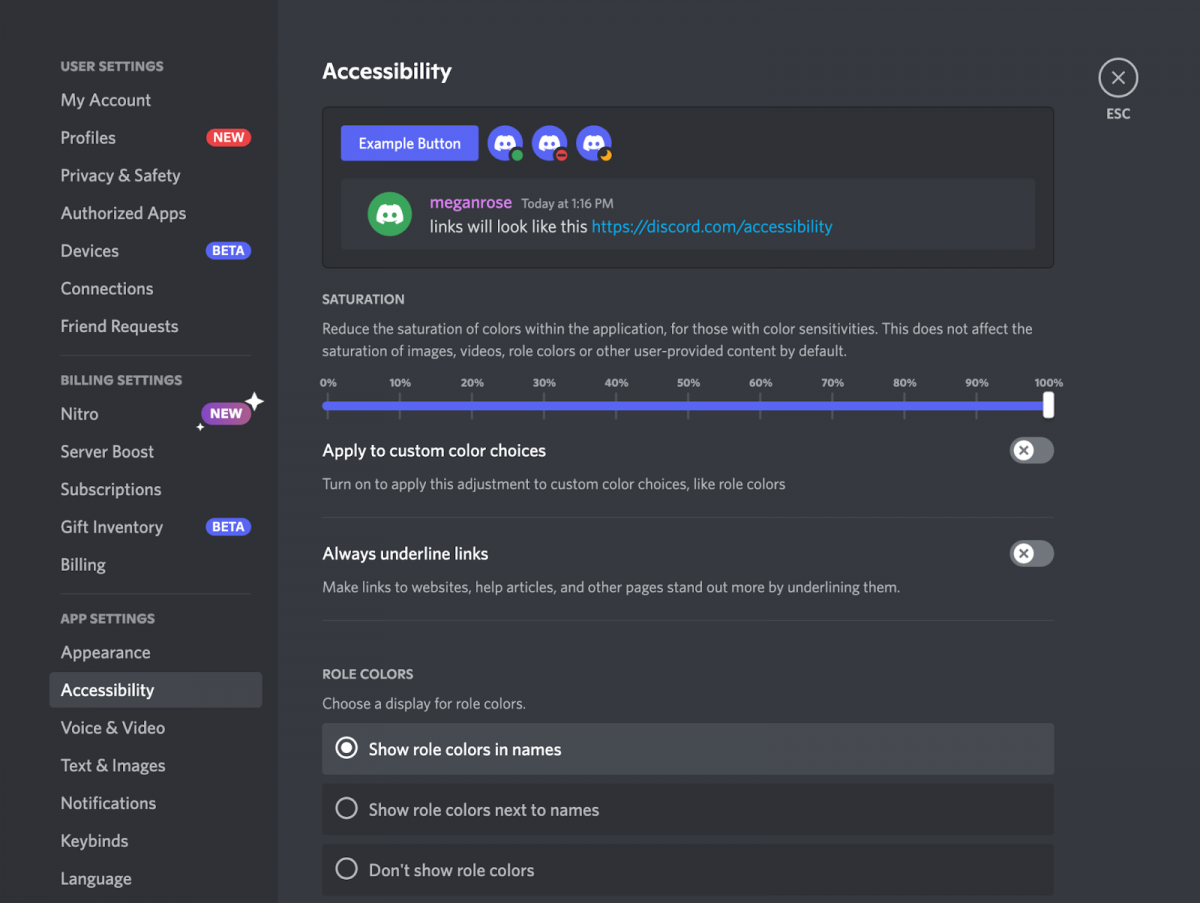 Optimization
Building a community on Discord is reliant on the platform for providing an accessible and performant experience for users.
Turn on subtitles or closed captions if you stream
If customizing username colors, ensure there's high contrast between role colors for improved legibility
Consider minimizing the number of channels to not overwhelm the user and using emojis at the beginning of each channel name for better content discoverability
Enable reduced motion to reduce the intensity of animations in the server where possible
Let's wrap it up
Discord offers an experience and functionality that can make it easy to onboard a variety of communities to the space. If you're looking to have concerns about infrastructure taken off your hands, using an out of the box platform like Discord can allow you to focus on managing your community and enhancing the experience of your users.
This has been a high level look at tips for how to build a community on Discord. Hopefully these tips and tricks can get you started on the road towards community growth.