Up to this point, we've shared many articles that touch on different aspects of community management, but in this new series that we're introducing, we'll be covering a number of community platforms and how we recommend they best be utilized through our strategic lens.
For years being community experts in the forum space, we've developed a community model and methodology that we apply to each and every project that we do. The model includes different areas of focus that have become our principles to help guide communities in a better direction regardless of the platform or field of expertise.
To see more on what we've written for other platforms, you can check out our guides on Discord and Forums. We also have future plans of covering YouTube, Facebook Groups, and Reddit.
If you've found yourself here though, you may be interested in starting your own Twitch community or already an established streamer that is looking for useful tips on how to improve. A beginner or not, we hope this guide can help you unlock the potential of your community.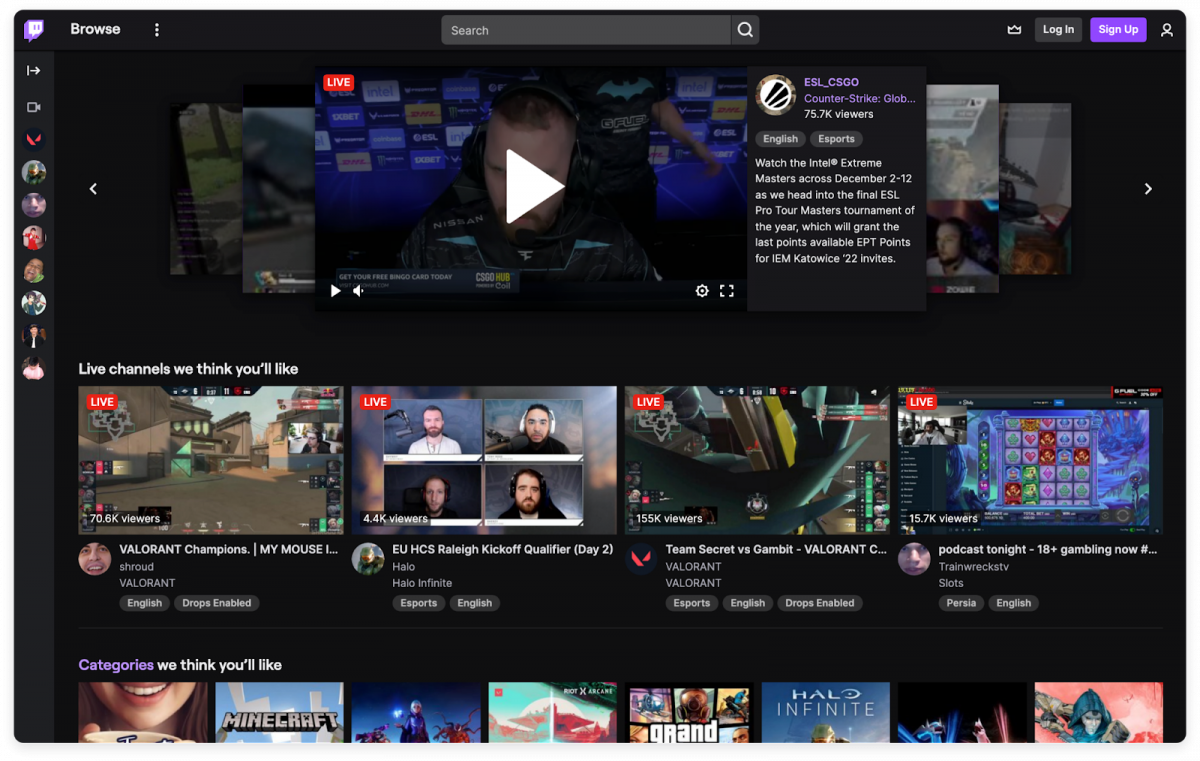 What is Twitch?
Twitch is a live streaming platform where:
Viewers can find streams for a variety of interests — most popularized being gaming — and rally around the streamers that they love by: following their channel, making a donation, subscribing, or being a positive force within the chat.
Streamers can create a live stream channel about the topic of their choice with the ability to: customize their space, create a following of viewers, engage with them, and monetize.
Twitch is most commonly used for gaming but also for product reviews, lifestyle content, and events like tournaments and contests. It can be the ideal platform for communities that want to tap into an already established audience with a low barrier to entry on getting started. Luckily, Twitch does most of the work for you with your channel being hosted by them and access to a large library of customization options and extensions.
There can be downsides in that it's not a white-label solution — your channel will still have Twitch branding — and Twitch takes a percentage of your revenue. It depends on your needs if you view these as potential advantages or disadvantages so below we've detailed the key takeaways about Twitch as a platform.
Twitch is ideal for communities that:
Don't want to worry about infrastructure
Are just getting started
Focus on entertainment or gaming
Attract a younger audience
Don't need a white-labled solution
Hosting:
Not necessary, the channel is held within the Twitch site
Data:
Owned by Twitch unless you centralize your user data in an alternate platform
Platform additions:
Common use cases:
Gaming
Product reviews
Lifestyle content
Tournaments/Events
Contests
Podcasters
Benefits:
Twitch has more brand recognition than some other platforms meaning users are likely more familiar with it and know how to use it.
The platform itself has high traffic and is popular for certain categories which means more competition but also less of a barrier for your channel and viewership to grow since your audience may already be using the site.
Amazon Prime subscriptions are unique to Twitch and provide another monetization strategy for streamers with a service viewers likely already have.
Cons:
It's recommended to stream for at least 4 hours with a minimum of 2 hours for the best chance of being discovered by viewers so your schedule can include long hours.
Without safeguards in place, there can be trolls and chat abuse.
With a large viewer and streamer base, it may be difficult to develop your own niche and be discovered.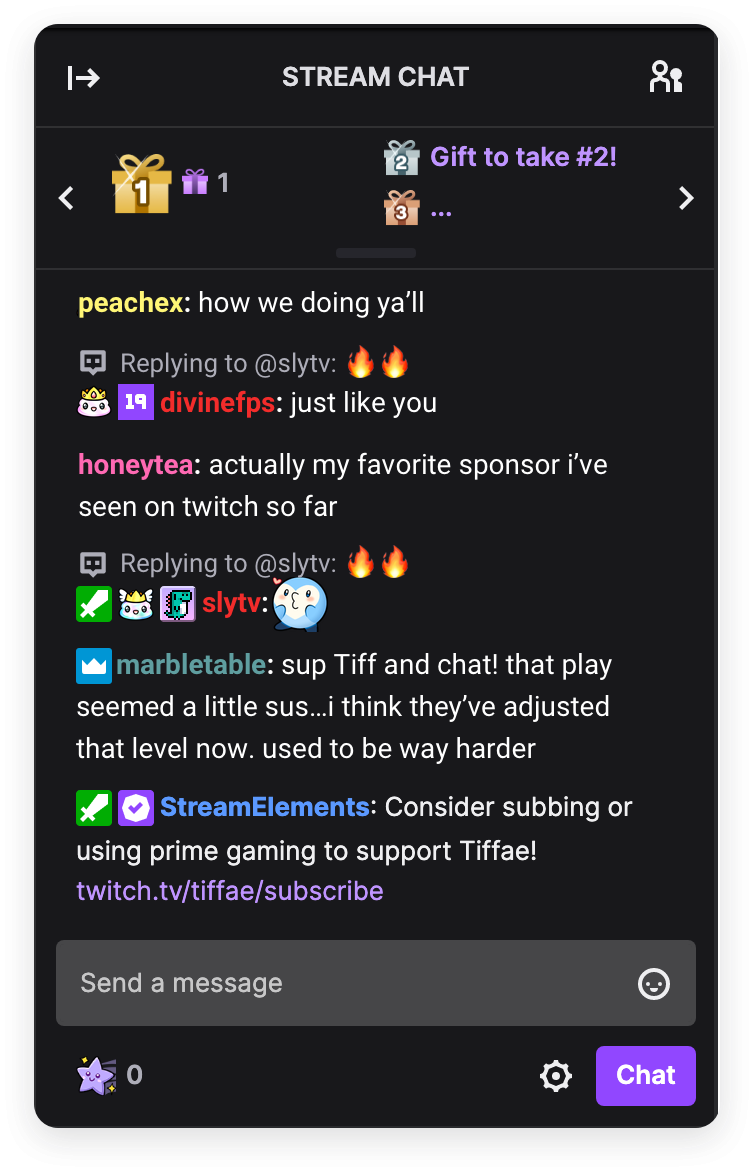 Why treat Twitch as a community?
Similar to other online communities, a group of viewers are congregating and bonding over a single idea, whether that's a game, an art technique, a sports team, or simply the streamer themself.
Treating your Twitch channel as a community will bring you closer to your users, could offer opportunities for improved monetization strategies, and offer a method for growth.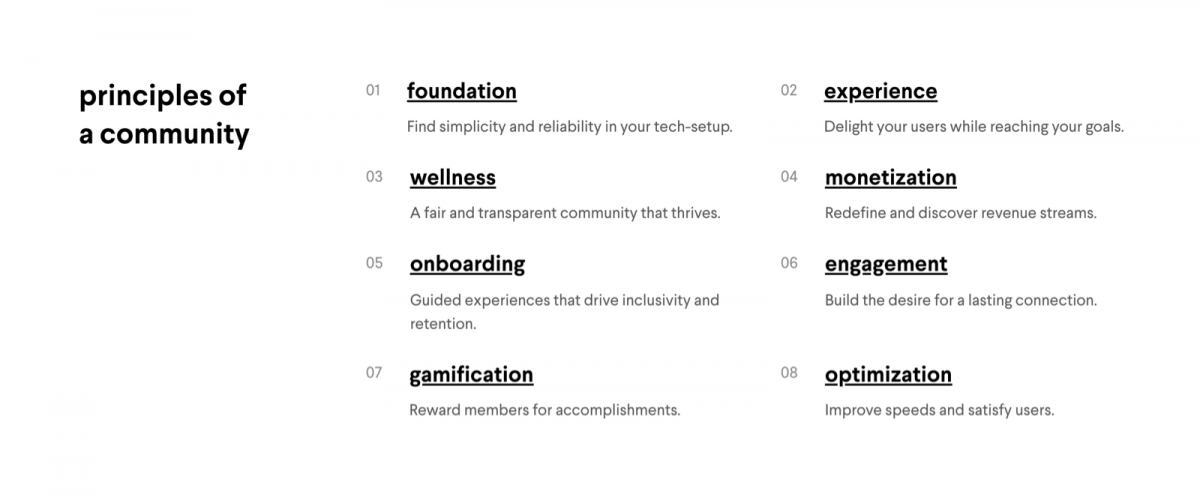 What are community principles?
We talked at the beginning about how we've identified a set methodology that we apply to every community which have become community principles. Together, the principles focus on 8 key areas that make for a strong community no matter the type of community (digital or physical) or the platform. Below we've put together some useful ideas on how to apply the community principles to Twitch and what they mean in more detail. Keep in mind that communities are unique so use the ideas, strategies and tools that make the most sense for you.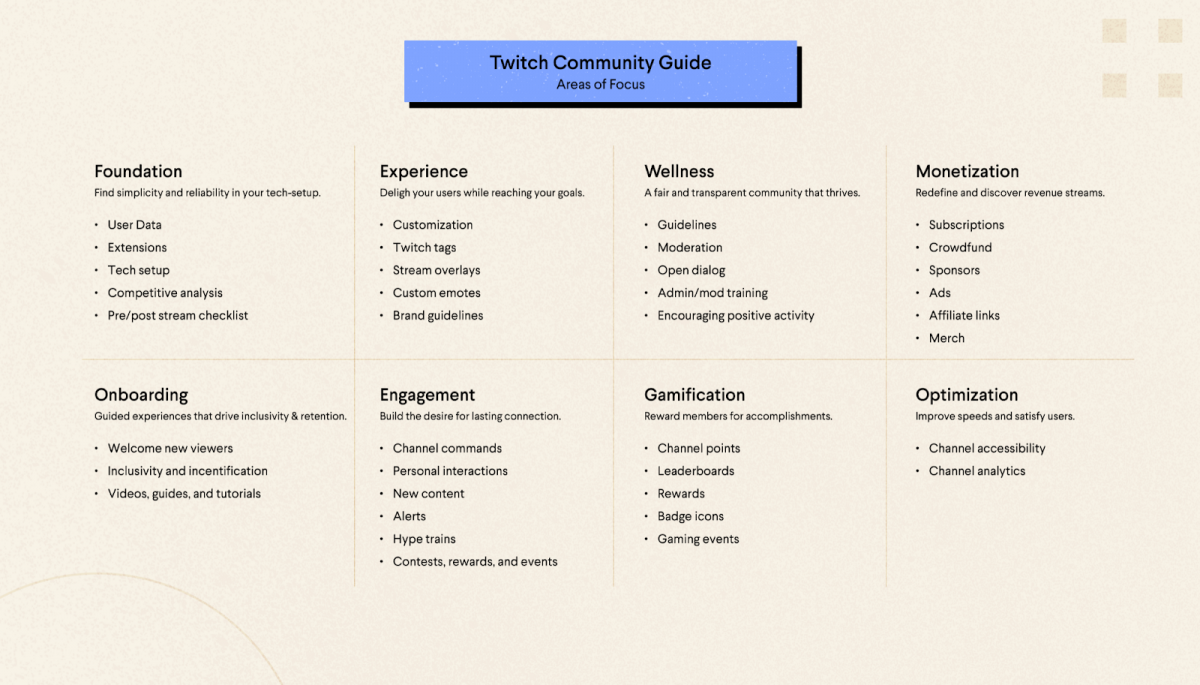 Ways to apply the principles to Twitch
Foundation
The software and tools that power your community are the infrastructure and in other words the foundation. The materials you use and how you use them determine the quality, reliability, and features of the site.

Ideas on how to improve foundation:
Centralize your user data to allow for viewer communication on your own terms
Segment your users in order to have a better understanding of your community via analytics
Evaluate and select a broadcasting software, hardware, and other technology needs
Find the optimal settings for streaming
Complete a competing channel analysis to make sure that you stand out
Have a checklist before and after each stream to make sure you stay organized and your stream reaches as many viewers as possible
Utilize Twitch extensions to gamify your community and improve the experience of your viewers
---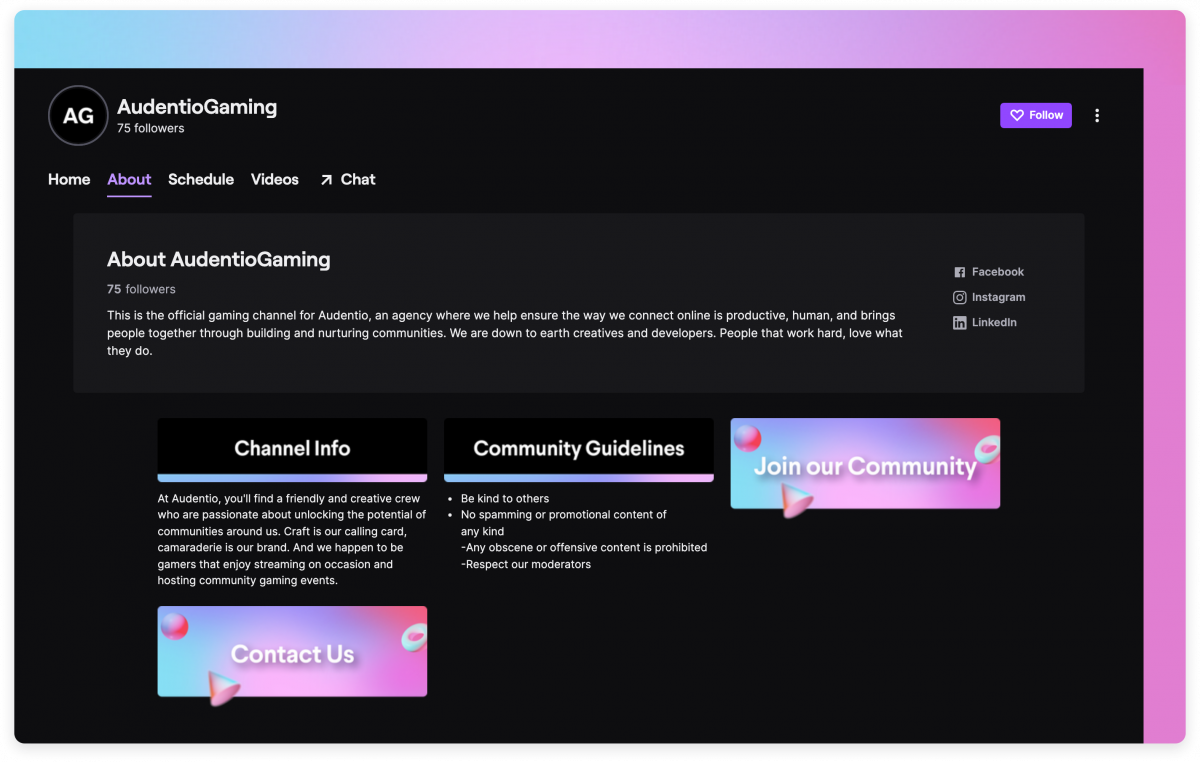 Experience
All aspects of the user's journey, the desired results of the user, and the goals of the community owner play into the user experience and user interface. The experience is the ease and intuitiveness of the platform for the user and how the experience and aesthetics make them feel.
Ideas on how to improve experience:
Customize your channel with an avatar, bio, banners, and other panel settings
Develop stream overlays for a more interactive experience for the viewer
Use custom emotes to add personality to your stream, increase the sense of community, and enhance the experience of viewers
Establish brand guidelines for consistency across Twitch and your other platforms
Use Twitch tags to help with content discoverability
---
Wellness
Wellness is the culture and health of a community. How members, moderators, and administrators feel about and interact with the community plays an important role on onboarding, engagement, and retention.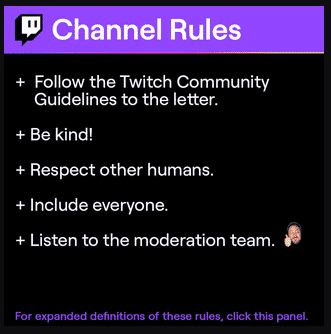 Ideas on how to improve wellness:
Train your admins and moderators and set expectations
Help everybody play by the rules by showcasing guidelines and rules in a clear, effective manner and follow through on the expectations you set
Monitor toxic content
Have an open dialogue with your users
Encourage positive activity from your users
---
Monetization
Regardless of whether or not you wish to "earn a profit" so to speak, it is always wise to at least be expense neutral. Meaning any expenses you incur in your channel, merchandise for example, is being paid for through the community. So even if you design your model to break even, it is still worth planning for strong to light profit as it will ensure long term stability of your community.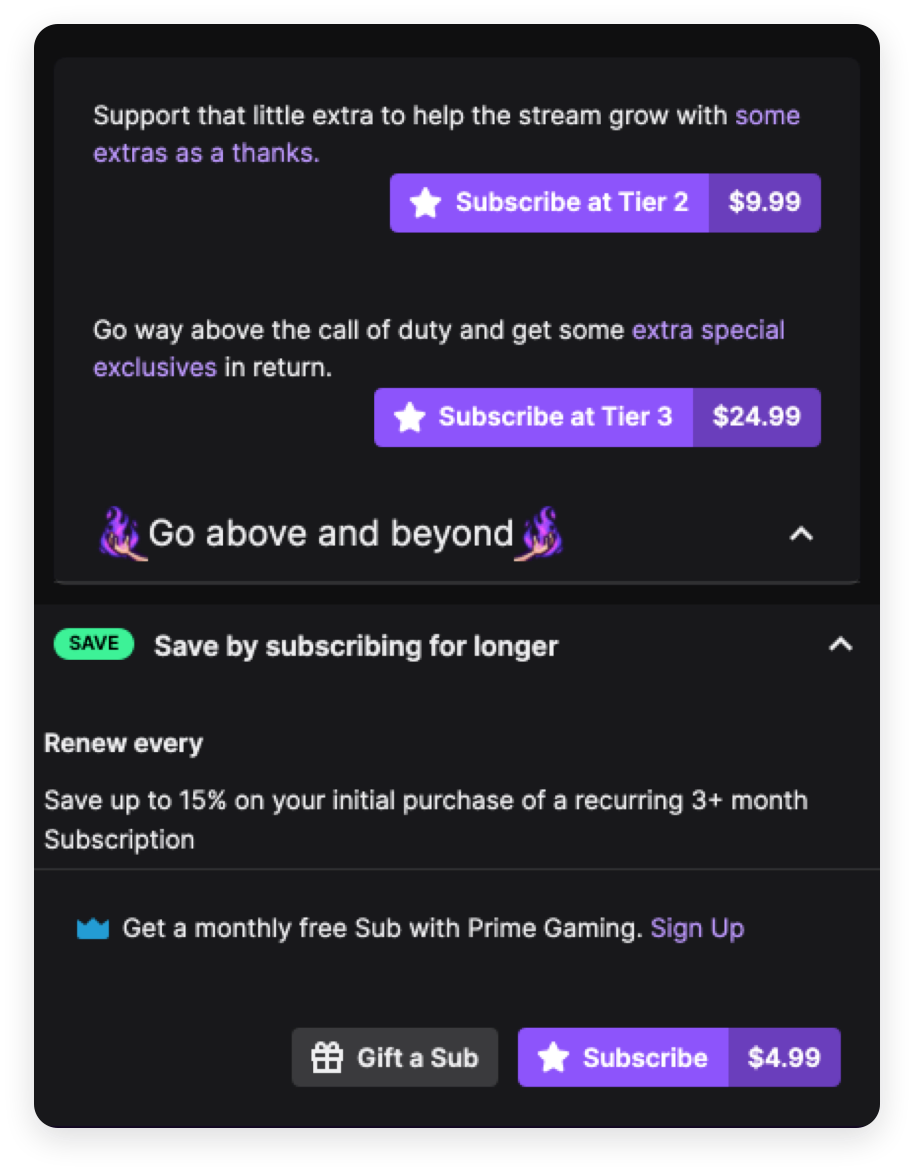 Ideas on how to improve monetization:
Use the subscription plans provided by Twitch and the subscriptions you can provide within your personal community to maximize revenue and offer perks to your users
Establish sponsors with links to your community to offset costs
Crowdfund so members of your community can invest in the community itself
Utilize best practices for advertising such as when to run ads, communicating ad breaks with your users, and spacing out your ads properly
Promote products to your viewers with affiliate links
Sell merch to let your community purchase something or select a reward for themselves through you
---
Onboarding
Those first interactions can impact users becoming involved or guided away. A unique experience, sense of belonging, and ease of getting started can help improve retention and engagement while setting users up for success in the community.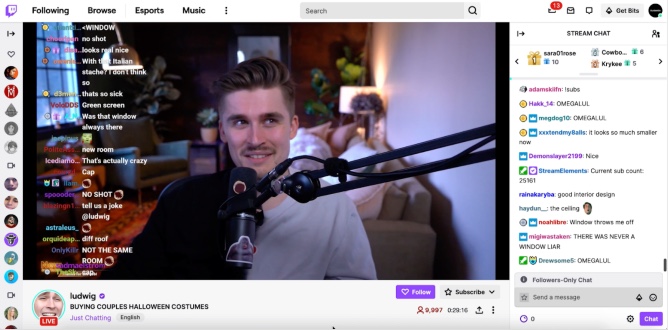 Ideas on how to improve onboarding:
Welcome new viewers by recognizing them and introducing them to your channel in a way that will make them long time members
Include and incentivize new members to make their first posts, threads, and other activities in the onboarding process
Give first time chatters the recognition they need to become regularly contributing members of your stream
Help members get acquainted with the community through videos, guides, and tutorials
---
Engagement
A big focus in user retention and the health and growth of your community is engagement. How do your users interact with each other? Do you create an environment where users feel like they have a purpose and mission in the community? Making sure that users have things to do like participating in a contest or answering a question can keep your users engaged and returning to the community for a long period of time.

Ideas on how to improve engagement:
Prompt users to interact with your chat by using channel commands specific to your stream
Regularly add in new content to your stream in order to keep users engaged
Encourage hype trains by challenging your users to work together and meet support event goals set out by the train
Engage members to keep them coming back with fun contests, rewarding giveaways, and special events
Balance when and why you alert your users
Offer an on screen visual to keep your users in the loop on important events
Interact with your audience because long-time and regular chatting is crucial for a vibrant community
Hang out with your audience and add some personality to your stream
Have commentary on your stream to facilitate a conversation with your viewers in order to make the stream more inviting
---
Gamification
People generally like being rewarded and a little friendly competition; whether it's being able to stand out in the community, access to special functionality, or branded swag. Rewarding members for engaging in valuable activities can provide a sense of accomplishment to members while the community benefits from their participation.
Ideas on how to improve gamification:
Channel points
Reward your viewers with built-in and custom perks specific to your channel
Achievements for streamers – Keep your channel on track by completing tasks or meeting milestones related to your channel
Incentivize healthy competition between users with leaderboards
Host gaming events
Make members feel accomplished for their efforts and incentivized to reach the next goal with unique branded badge icons
---
Optimization
Configuration decisions can have a real world impact on sales, conversions, sign-ups, and a variety of other metrics. Optimizing your platform can make the user experience better too.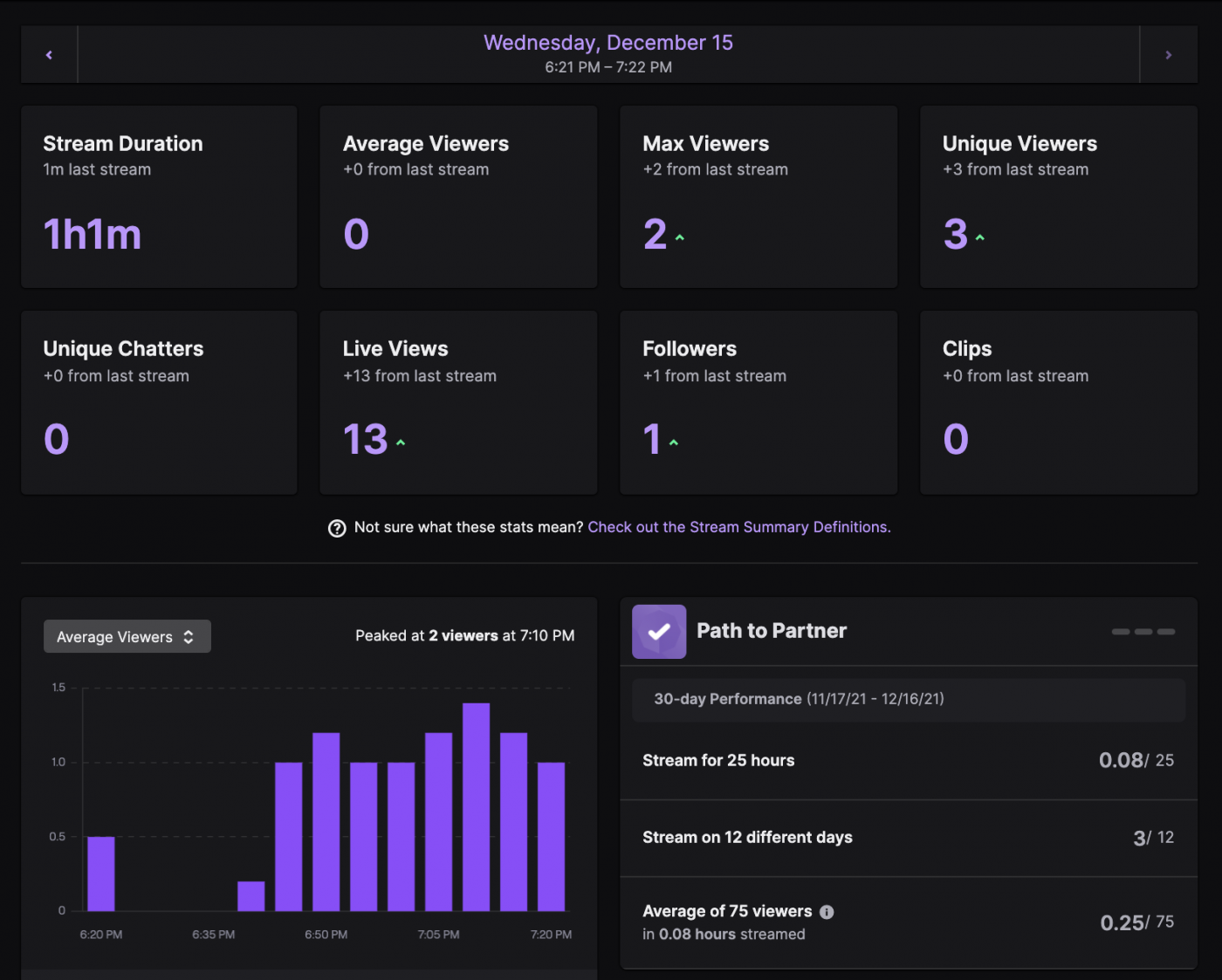 Ideas on how to improve optimization:
Make your channel accessible by enabling accessibility settings and adding extensions
Use channel analytics to inform your channel trajectory
---
Let's wrap it up
Live streaming can be incredibly rewarding if you can create streamable content from something you enjoy doing while also benefiting from the exposure it can have on your community and the added revenue stream.
Twitch is the leading platform for streaming which makes it an obvious choice when first starting but the strategies we shared above can also apply to other platforms. This guide has been a high-level overview on ideas for building a community on Twitch and we'll continue to share more on best practices. Of course there's more you can do and details to figure out but we hope that there are easy wins for you to already start implementing or ideas that get you excited for the future.