New to streaming, you may not be familiar with the streaming software options available to you. If you plan to use Twitch or Youtube Gaming, they have in-platform software for broadcasting your content, but they are typically limited in the amount of options available and may not match the functionality necessary to meet your goals.
Or do you already have a few streams under your belt and you're looking to change your setup? As your channel grows and you gain an audience for your content, you may find that you need new functionality not being offered by your current platform. Whether it be for price, functionality, or operating software, here are the most popular broadcasting software for streamers available.
What is live streaming software?
Before you determine the streaming software you need, it would be helpful to understand what it does. Streaming software allows for the streaming of audio or video content over the internet and can be used for live streaming or video streaming for on demand videos. Many streaming softwares will have their own functionality unique to their platform, which will require you to determine which features will fit your needs best.
Considerations for streaming software
When purchasing a streaming software, it's best to determine your goals and needs. A few questions to ask yourself before deciding are:
What features would you like to see in your software? Whether you're an experienced streamer or just starting out, it's important to have a clear understanding of your goals for growth and video production before determining which software you should use going forward.
What OS do you have? Some streaming softwares are operating system-specific, so if you're a Mac or PC user, it's best to identify that before to understand which broadcasting software you can and can't use.
Are you prepared to pay for your streaming software? Not all streaming software is free and some options may offer functionality that you're looking for behind a paywall. Before searching for software, you should determine whether you're willing to pay for the service or would like to keep your software free.
The best broadcasting software for streamers
With all of the information laid out above in mind and in no particular order, here is a list of the best broadcasting software for streamers.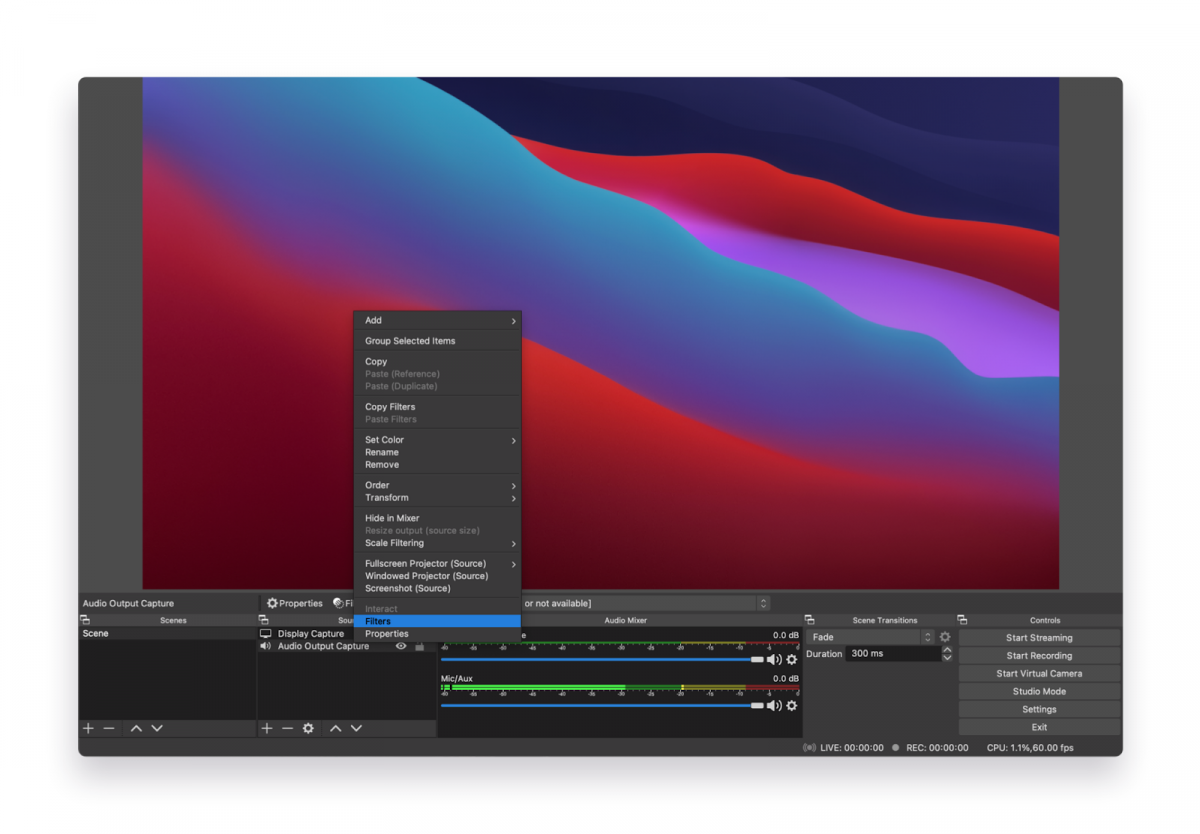 OBS Studio
OBS Studio is open source software for recording video and live streaming. OBS provides scene composition, encoding, recording, and broadcasting in real time and includes presets for popular streaming websites like YouTube and Twitch.
This software is available to a wide variety of operating systems such as Windows, MacOS, Linux, and BSD and offers data transmission via Real Time Messaging Protocol (RTMP) to any destination that supports that option.
Features:
Set hotkeys for nearly every action, like switching scenes, starting/stopping your stream, push to talk, and more
Intuitive audio mixing with per-source filters and additional plugin support
Setup unlimited transition scenes that you can switch between with custom transitions
Use studio mode to preview your scenes before your viewers see them
Dock UI allows you to arrange the layout to match your preferences
Use multi-view to monitor 8 different scenes and easily transition between them
Pricing:
OS:
Windows, MacOS, Linux, BSD
---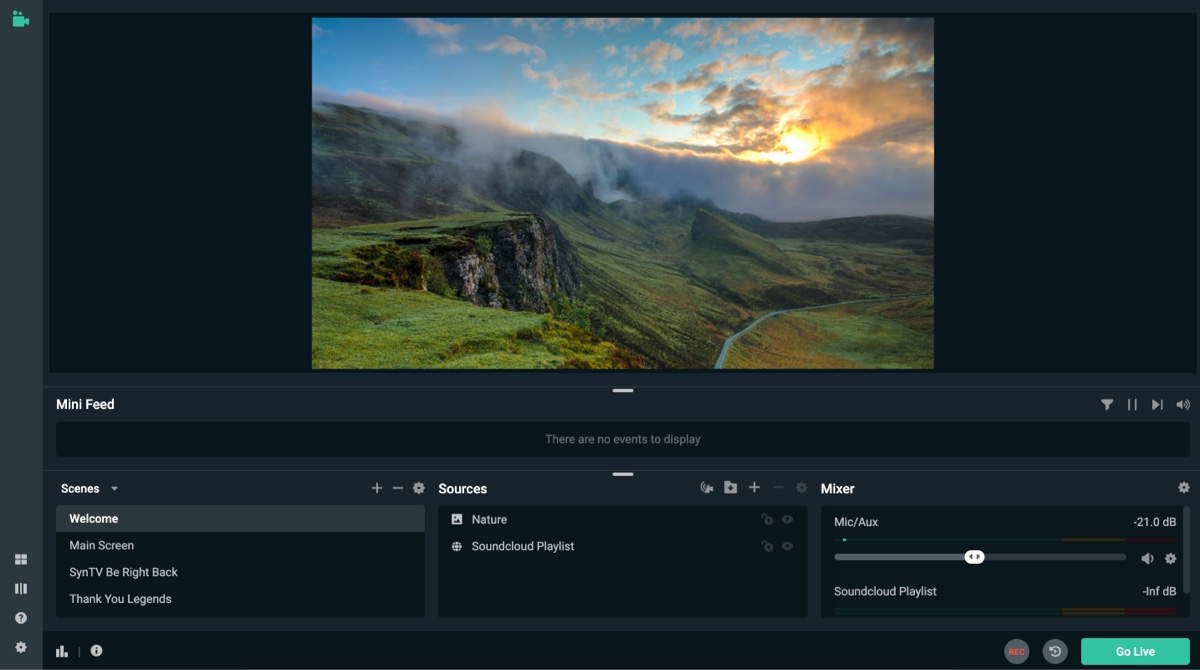 Streamlabs
Streamlabs, created by TwitchAlerts in 2014, is open source software for recording video and live streaming. This streaming software is based on a fork of OBS Studio and it's user interface employs the Electron software framework.
Streamlabs includes presets for YouTube, Twitch, and Facebook and also has a feature called Crossclip that will allow videos to be converted into a format for social media platforms like TikTok, Youtube Shorts, and Instagram Reels.
Features:
Performant and uses cloud for video backups
Adds the ability to personalize your stream with overlays. Offers free and paid options
Offers multi-stream, or the ability to stream to multiple platforms
Customizable stream alerts for viewer tips
Additional apps to add enhancements to your stream
More analytics options
Pricing:
OS:
---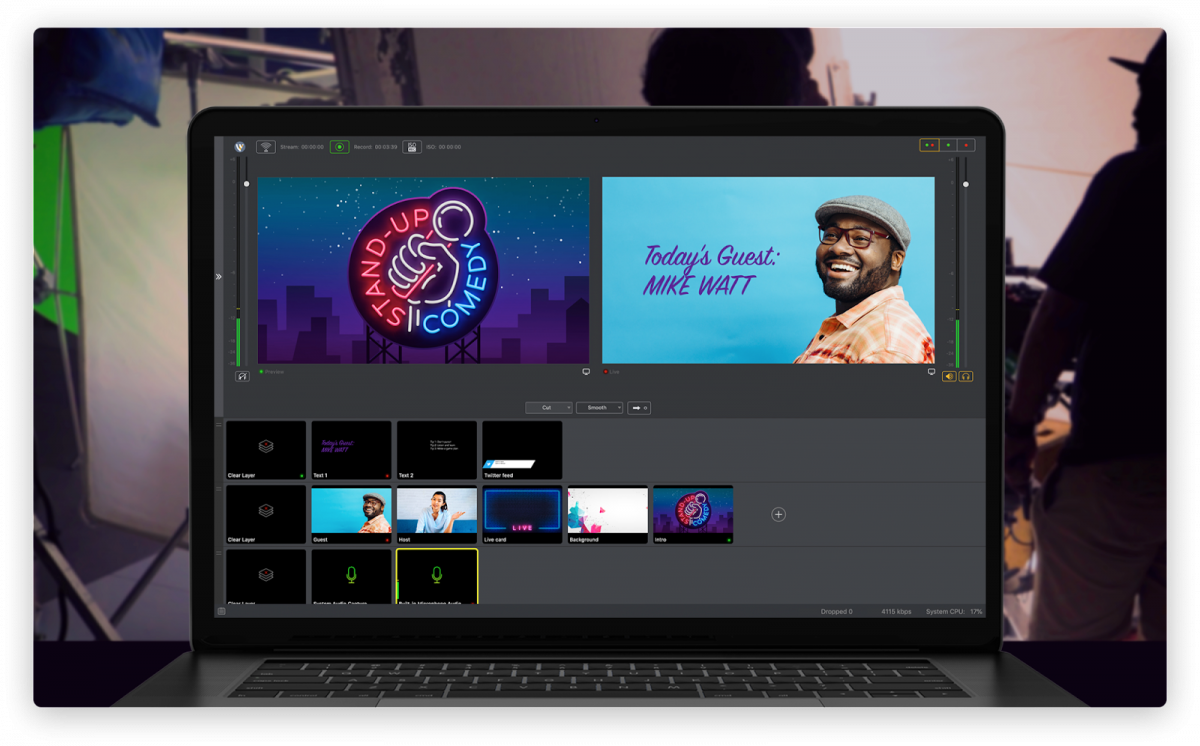 Wirecast
Wireast is paid software for recording video and live streaming that was created by Telestream. This software has video switcher functionality, allowing you to quickly switch between multiple live videos and mix in other media sources.
Wirecast is compatible with a variety of capture cards and camera configurations and also supports multicasting for those that would like to stream to multiple platforms simultaneously.
Features:
Unlimited inputs and functionality for 2-7 remote guests using Wirecast Rendezvous conferencing
5 primary mixing layers
Built-in and animated lower thirds title library
Integrated text, Chroma Key and built-in transitions
The ability to add custom transitions and playlists
Social media integration
Access to a stock media library
Unlimited output destinations
1-17 slot multi-viewer output
Pricing:
Wirecast Studio: $599
Wirecast Pro: $799
OS:
---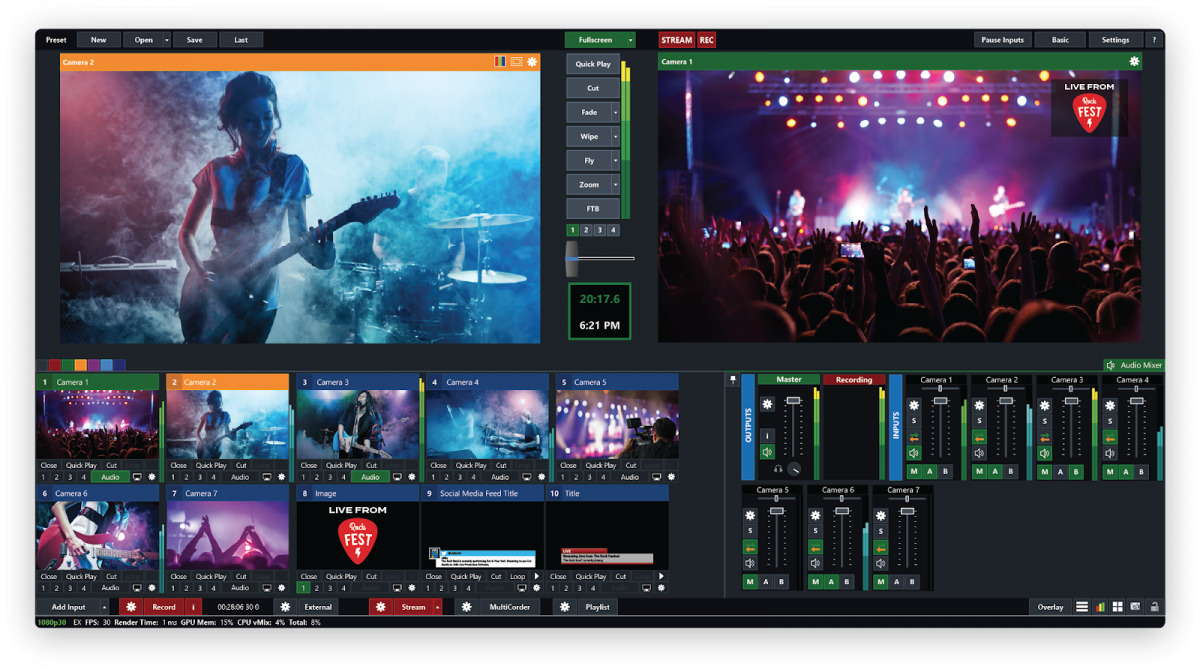 vMix
vMix is paid software for recording video and live streaming and was developed by StudioCoast. The software, similar to other streaming software, allows for input switching and mixing audio, but it also offers image magnification (IMAG) and a range of external output and display options that are unique to the vMix software.
vMix relies on graphics libraries like Direct3D, making the platform exclusive to those using a Windows operating system. This software also can be used with Twitch, Facebook and Youtube and social media content and comments can be integrated into the stream from those platforms as well as Twitter.
Features:
The ability to mix multiple audio sources and combine multiple video and audio files into a single input
Live stream to multiple streaming providers including Facebook Live, YouTube, Twitch, and Ustream
Virtual camera support for streaming to third party software, such as Skype, Zoom, and Google Hangouts
Stock and customizable streaming transitions effects
Built-in animated graphics and the ability to create your own
Real-time Chroma Key
Add up to 8 remote users to your stream
High quality audio mixer to fine tune every audio source. Built-on EQ, compressor, and noise gate effects
4 overlay channels and each can have its own style
Pricing:
Lifetime License

Basic HD: $60
HD: $350
4K: $700
Pro: $1200
OS:
---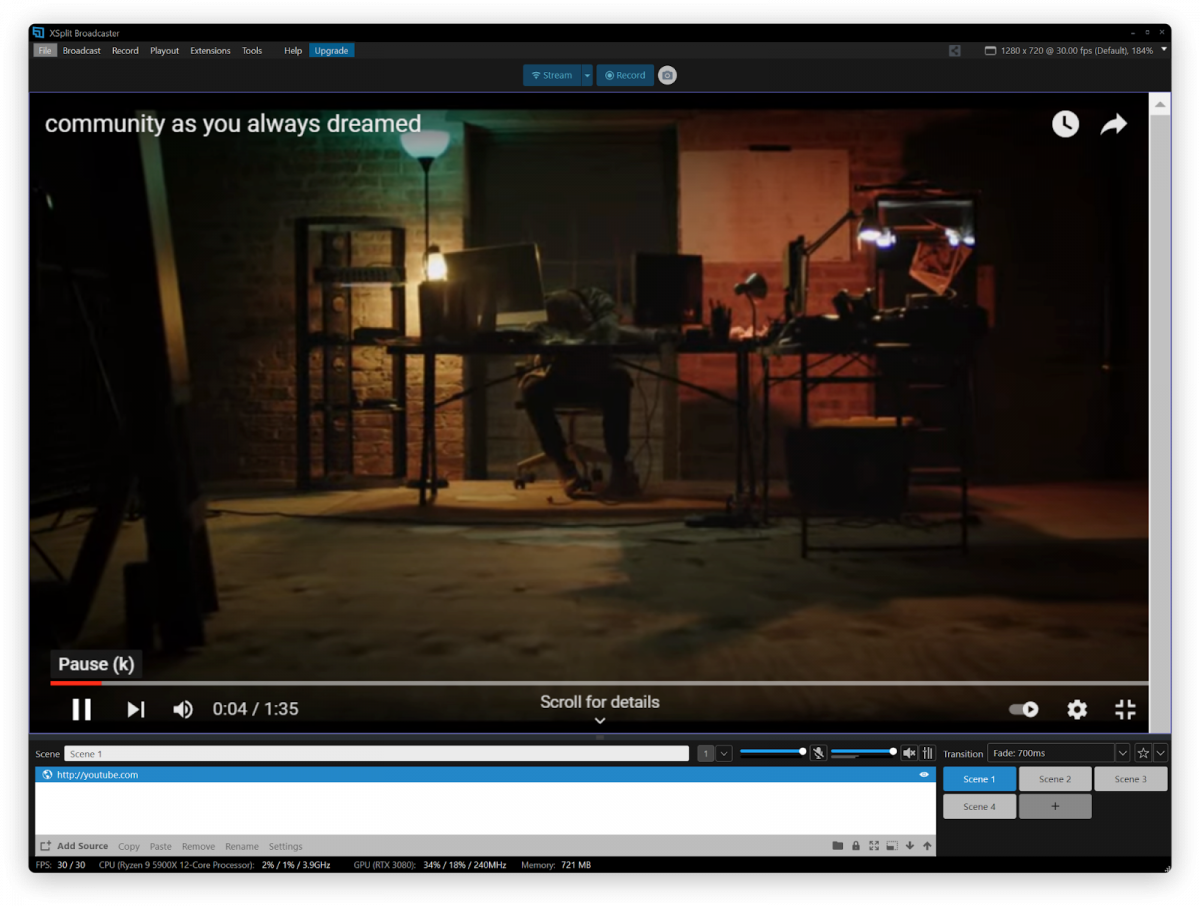 XSplit
XSplit, created in 2016 and maintained by SplitmediaLabs, is powerful and performant live streaming and recording software with many customization options. There are two products that fall under XSplit depending on the type of content you produce, XSplit: Broadcaster and XSplit: Gamecaster.
XSplit: Broadcaster is a video mixer that allows you to combine live video with other media sources to create a live broadcast or on-demand video. XSplit: Gamecaster is a live streaming and recording platform for gamers that want to stream and perform very little configuration and setup.
Features:
Built in and customizable scenes and scene transitions
Thumbnail scene previewing
Chroma Key support
Audio sourcing, local streaming, and stream delay
The ability to broadcast simultaneously to multiple streaming services
Pricing:
VCam Premium: $8/month, $15/quarter, $30/year, $60 (lifetime)
Presenter Premium: $9/month, $20/quarter, $60/year, $200 (lifetime)
Broadcaster Premium: $15/month, $30/quarter, $60/year, $200 (lifetime)
Premium Bundle: $20/month, $35/quarter, $70/year, $230 (lifetime)
OS:
---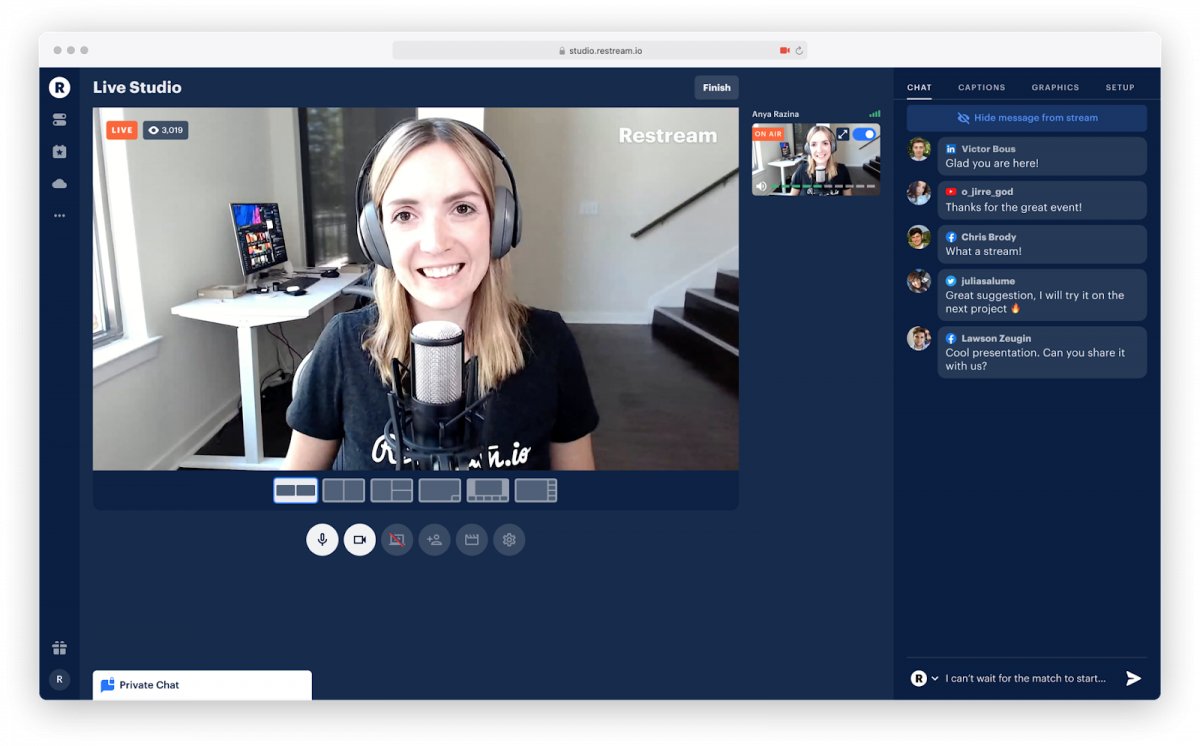 Restream
Restream is a cloud live streaming service that is primarily focused on multistreaming functionality. This software will allow you to stream to Facebook, Youtube, Twitch, and Linkedin simultaneously.
Restream is supported for Windows, MacOS, and Linux operating systems due to it being a cloud service and also allows streamers to stream an unsupported RTMP enabled platform (this feature is part of their paid plan).
Features:
Multi-streaming simultaneously to streaming services like Facebook, YouTube, Twitter, and LinkedIn
Invite guests to your live streams
Customizable options to make your stream on brand, such as logos, overlays, and backgrounds
Converse with your country in real time
Highlight messages from your users and add calls-to-action for important messages
Pricing:
For individuals: Free
Standard: $19/month, $190/year
Professional: $49/month, $490/year
Premium: $99/month, $990/year
Business: $299/month, $2990/year
OS:
Do you really need streaming software?
Having a broadcasting software for your channel or community can offer additional ways to engage and interact with your audience that might not be possible using a stock broadcasting software offered by the platform you plan to stream on. In this day and age, you may not need broadcasting software if you're just starting out, but for channel growth and more customizable options, using external broadcasting software is crucial because of the enhancements it can offer to your stream and your users' experience. If you've found the broadcasting software for you and want to determine the features you need for your live events, check out this article.