Up to this point, we've shared many articles that touch on different aspects of community management, but in this new series that we're introducing, we'll be covering a number of community platforms and how we recommend they best be utilized through our strategic lens.
For years being community experts in the forum space, we've developed a community model and methodology that we apply to each and every project that we do. The model includes different areas of focus that have become our principles to help guide communities in a better direction regardless of the platform or field of expertise.
To see more on what we've written for other platforms, you can check out our guides on Twitch and Discord. We also have future plans of covering YouTube, Facebook Groups, and Reddit.
If you've found yourself here though, you may be interested in starting your own forum community or a community owner that is looking for useful tips on how to improve. A beginner or not, we hope this guide can unlock the potential of your community.
What is a forum?
A forum is where people congregate when they have something they wish to accomplish, answer, or discuss regarding a specific topic. With a large goal of the platform being to create bonds between users, socialization is encouraged and long-form discussion is valued.
A forum platform is often heavily customizable, can be white-labeled, and may be cloud or self-hosted. There are many options when it comes to forum software but the ones that are the most popular and standard are XenForo, InVision Power Board, Vanilla, vBulletin, and Higher Logic.
Forums are ideal for communities that:
create/share relevant information that can be discussed and beneficial over a long period of time
encourage socializing with others interested in the topic
value long-form discussion
want to govern/manage themselves
want a white-label solution
Common forum platforms:
XenForo, InVision Power Board, Vanilla, vBulletin, Higher Logic
Hosting:
Options for self hosted or cloud
Data:
By having a forum you have the ability to own your data
Platform additions:
Add-ons/plugins
Themes
Custom development
Common use cases:
Associations/professional organizations
Special interest groups
Lifestyle brands
Tech enthusiasts
Game developers
Benefits:
Full control over brand and functionality.
Dedicated space for organized discussion on similar interests.
Organize content as you see fit.
Full control over monetization methods.
Ability to own and leverage your own data.
Dedicated platform to act as support for your users or offer your own products to them.
Cons:
Higher start-up costs and tech overhead with the infrastructure falling to the community owner.
Without the aid of custom development or add-ons, the forum experience can feel dated.
Not intended for real-time chat but more long-form discussion.
Why treat a forum as a community?
Forums give a space for users to interact and form long term friendships over similar interests. Whether the topic of your community is fishing, guitar, or education, treating your forum as a community will bring you closer to your users, give you a dedicated space to interact with your core audience, and reward your users for positive actions and keep them coming back.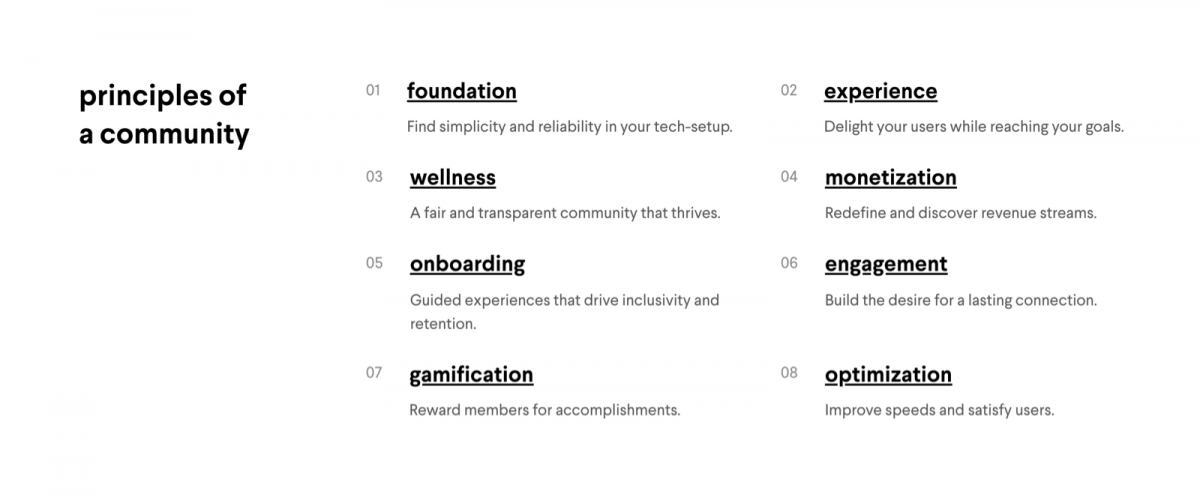 What are community principles?
We talked at the beginning about how we've identified a set methodology that we apply to every community which have become community principles. Together, the principles focus on 8 key areas that make for a strong community no matter the type of community (digital or physical) or the platform. Below we've put together some useful ideas on how to apply the community principles to forums and what they mean in more detail. Keep in mind that communities are unique so use the ideas, strategies and tools that make the most sense for you.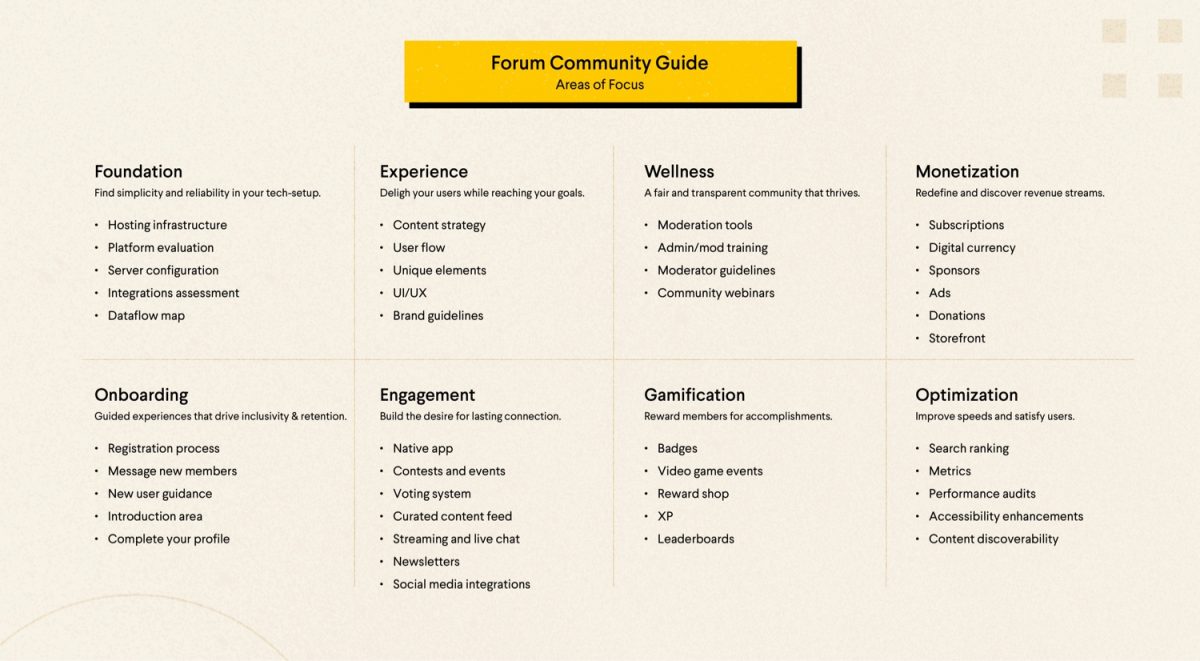 Ways to apply the principles to a forum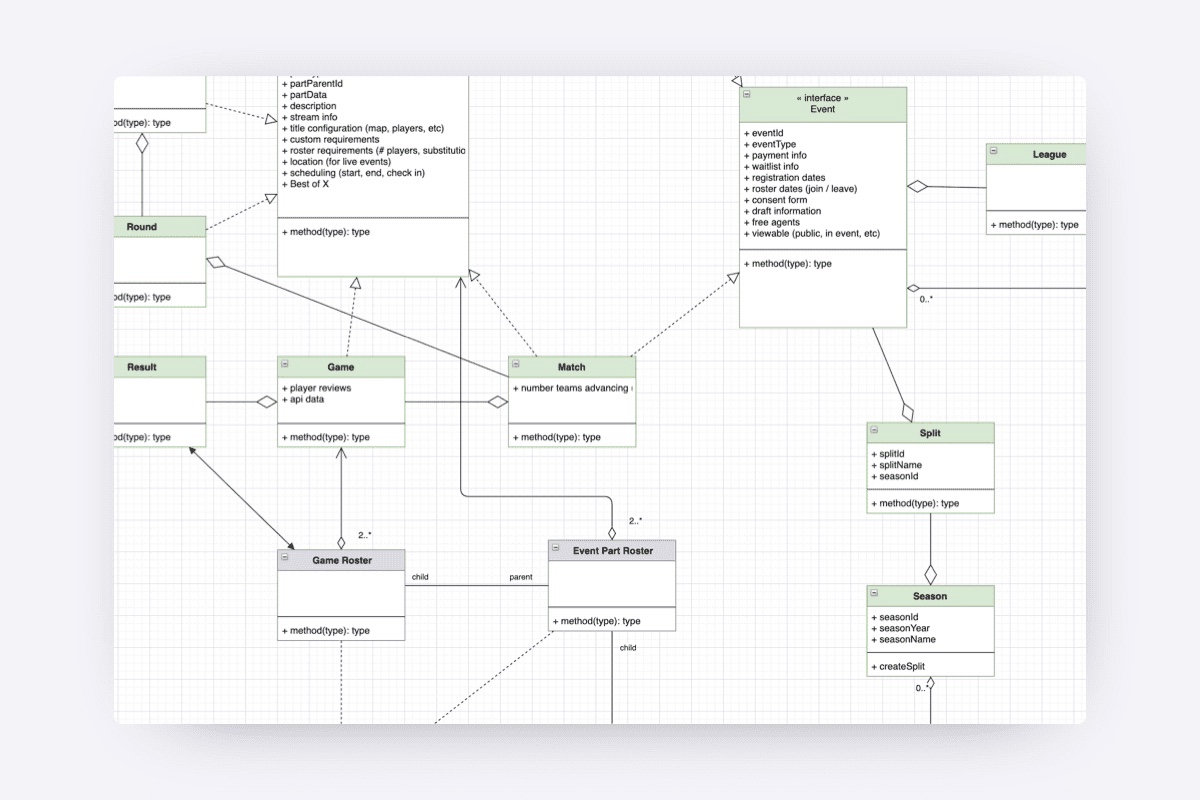 Foundation
The quality, reliability, and features of your site are determined by the resources you use and how you use them. The software and tools that power your community are the infrastructure, the foundation.
Ideas on how to improve foundation:
Identify the best hosting infrastructure based on your needs and choose a reputable, knowledgeable partner
Configure your server to meet your specific needs
Evaluate different platform/software solutions
Map your dataflow
Assess your integrations to make sure they are helping rather than hindering and identify other areas that could benefit from automation or integration
---
Experience
The entirety of the user journey, desired intent of the user, and community owner's goals should all be considered in creating the user experience.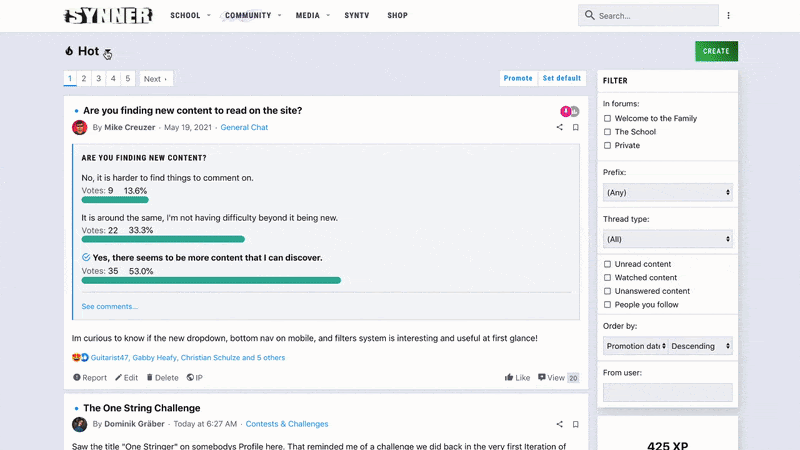 Ideas on how to improve experience:
Take time to make your content strategy and pay particular attention to user flow
Establish brand guidelines to maintain consistency
Add unique elements like iconography and illustration to help create your brand feeling
Go through a wireframing and prototyping process for your user journey
Refine your brand as needed to stay relevant with your target market
Create a unique, simple user experience and interface
---
Wellness
Wellness is the culture and health of a community. How members, moderators, and administrators feel about and interact with the community impacts onboarding, retention, and overall engagement.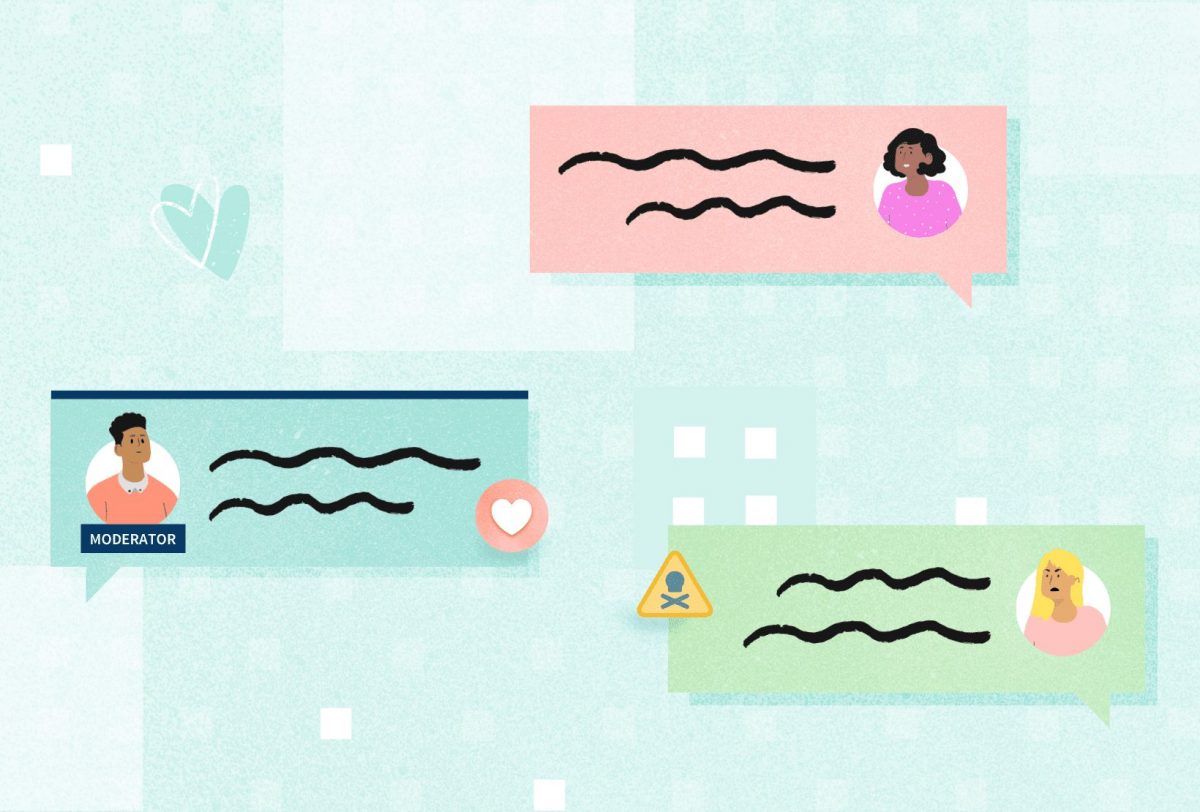 Ideas on how to improve wellness:
Train admins & moderators
Host frequent webinars
Monitor toxic content
Communicate guidelines and rules
Incentivize positive activity
Clearly establish expectations and have your team lead by example
Utilize tools to discourage spam and negative content and behavior
---
Monetization
Whether you want to make a profit or simply break even to support the community, you'll want to have a strategy in place for long term stability.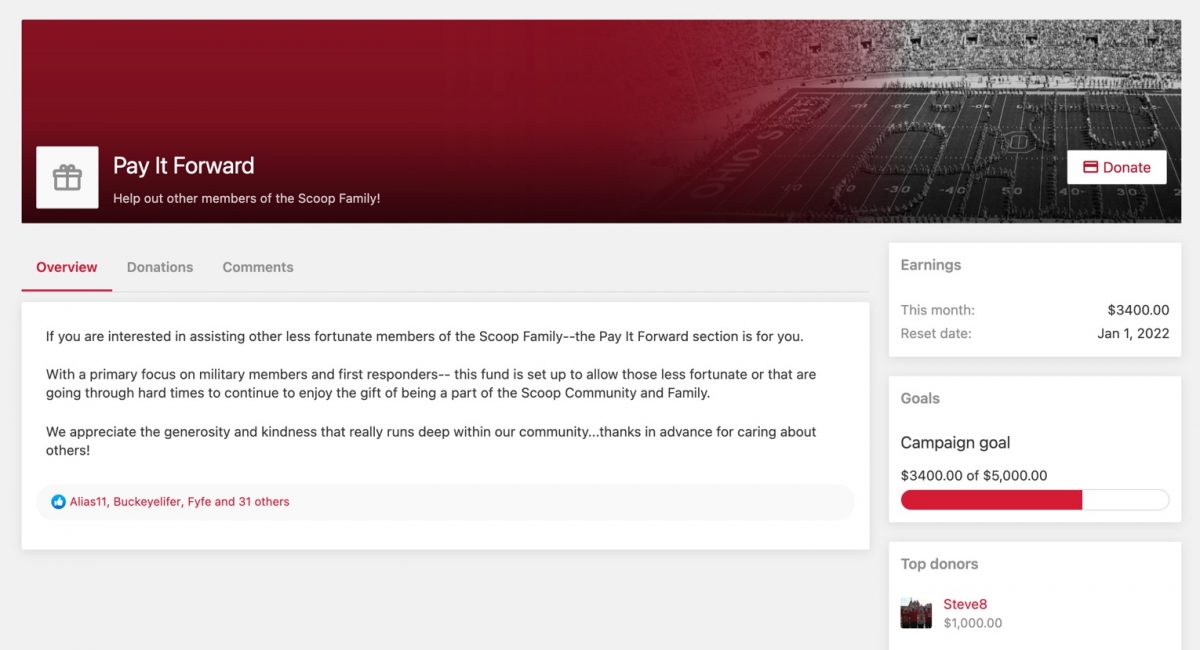 Ideas on how to improve monetization:
Create a membership model
Get sponsors for forums, content, and the community overall
Introduce digital currency
Set up donations and set goals
Integrate advertisements
Open a shop
Share unique content with paid members
Reward your supporters with unique features like special badges, exclusive themes and an ad-free experience
Provide early access and build a test commmunity
---
Onboarding
The first interactions a user has can make or break their relationship with the community. Providing members with a unique experience, feeling of belonging, and simple path to participate can help improve retention and engagement.
Ideas on how to improve onboarding:
Streamline the registration process
Guide new members on how to get started, where things are, and what to do first
Encourage participation right away
Incentivizes users to complete their profile
Highlight rules and guidelines
Send direct messages to new members welcoming them
Add a place for new members to introduce themselves
---
Engagement
Make sure users have a reason to come back and something to do when they arrive like participating in a contest or answering a question to keep your users engaged.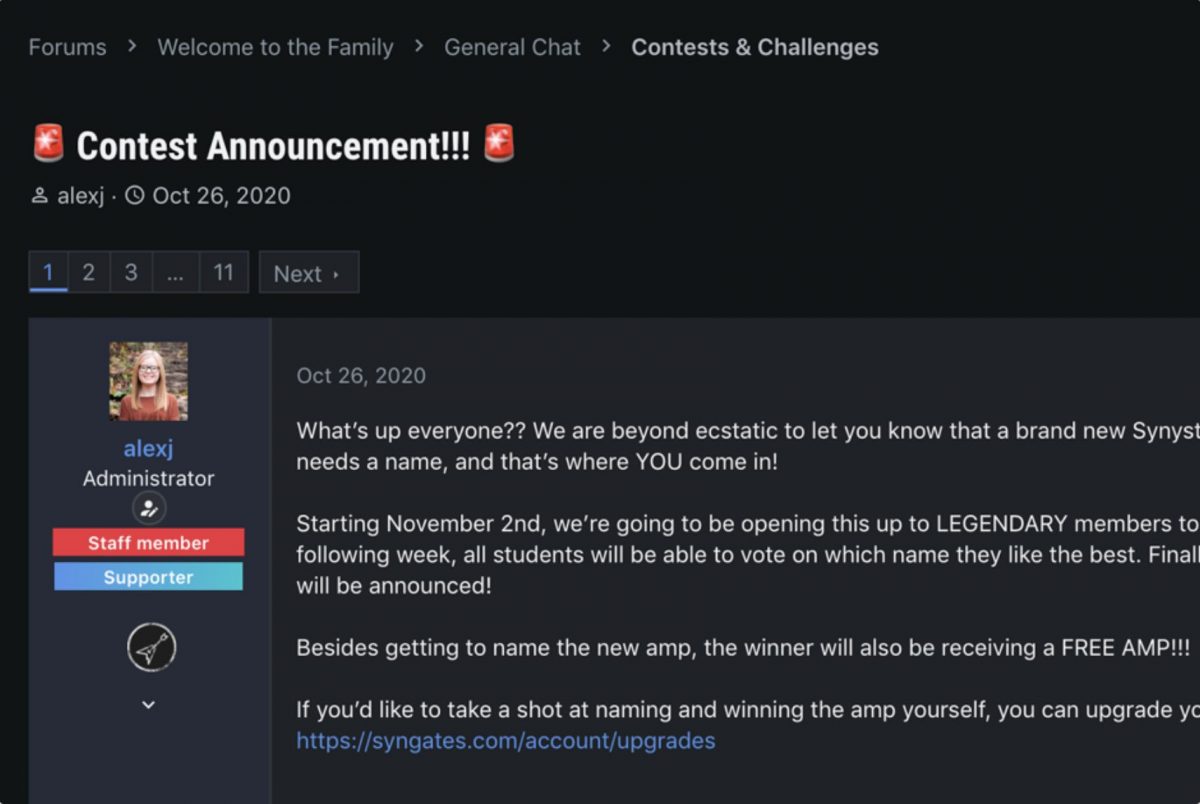 Ideas on how to improve engagement:
Create a curated feed with a dashboard
Integrate with social media by allowing users to login using accounts from other platforms and having unique embeds for content from other platforms
Set up a Reddit-style voting system that highlights relevant responses and best answers
Host contests and giveaways
Start a streaming schedule
Send a monthly or quarterly newsletter
Give users the ability to interact in a native mobile experience
---
Gamification
It's no secret that people generally like being rewarded and a little friendly competition is nice too. Not only can it make your members happy and feel accomplished, rewarding members incentivizes the valuable activities you want.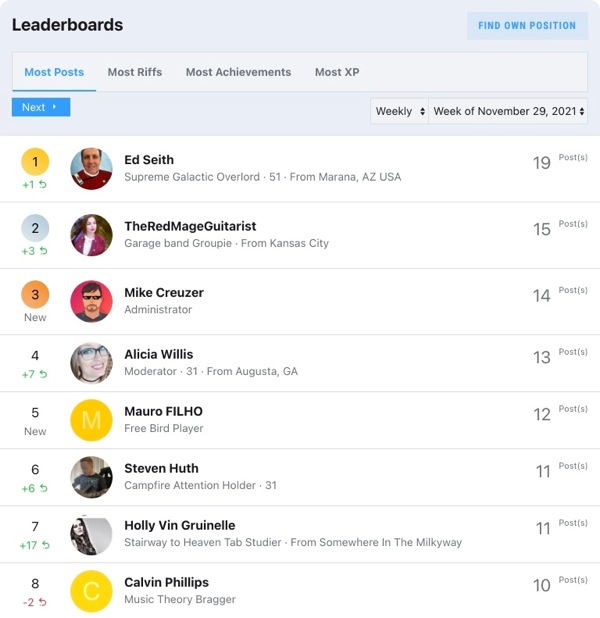 Ideas on how to improve gamification:
Award badges for milestones
Host video game events
Encourage users to level up by gaining experience points
Open a reward shop
Display members with the most activity in a leaderboard
---
Optimization
Sales, conversions, sign-ups, and a variety of other metrics can be impacted by the configuration decisions made on a site, even if minuscule. Optimizing your platform can make the user experience better too.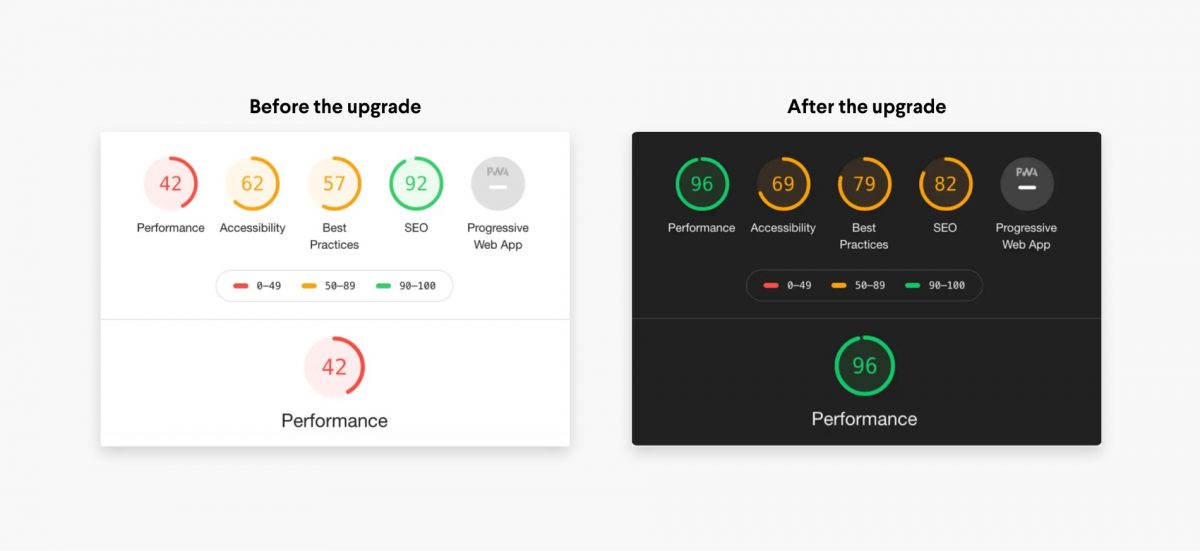 Ideas on how to improve optimization:
Follow best practices for search ranking
Do a comprehensive audit report
Improve accessibility
Enhance content discoverability
Increase speed and overall performance
Monitor metrics moving forward
---
Let's wrap it up
Forums have typically been the first choice when creating a community and have a long history in bringing value to its members and community owners. Getting started with forum software can be complex with most of the infrastructure falling to the owner to set up but once done, forums offer the most customizable and feature-rich community experience. The forum space has been our home for many years and we can't speak enough to value that they can still have for new communities.
This guide has been a high-level overview on ideas for building a community on forums and we'll continue to share more on best practices. Of course there's more you can do and details to figure out but we hope that there are easy wins for you to already start implementing or ideas that get you excited for the future.