As experts in the community space for years, we've honed our craft and developed a set methodology that we put into practice in every community we work with. These established principles can help guide and grow communities regardless of the platform or industry focus.
So far, we've written several guides touching on facets of community management, but in this new article series, we're covering numerous community platforms and providing our recommendations for how these platforms should be best utilized through our lens of community strategy.
If you're curious about our recommendations for other community platforms you can check out our guides on YouTube, Twitch, Facebook Groups, Discord, and Forums.
Since you're viewing this guide, you may be interested in starting your own subreddit or you may already have a subreddit and want to discover strategies for growing your community or improving the experience of your users. Whether you're just starting your community or already established, we hope this guide can help you to reach your goals for your community space.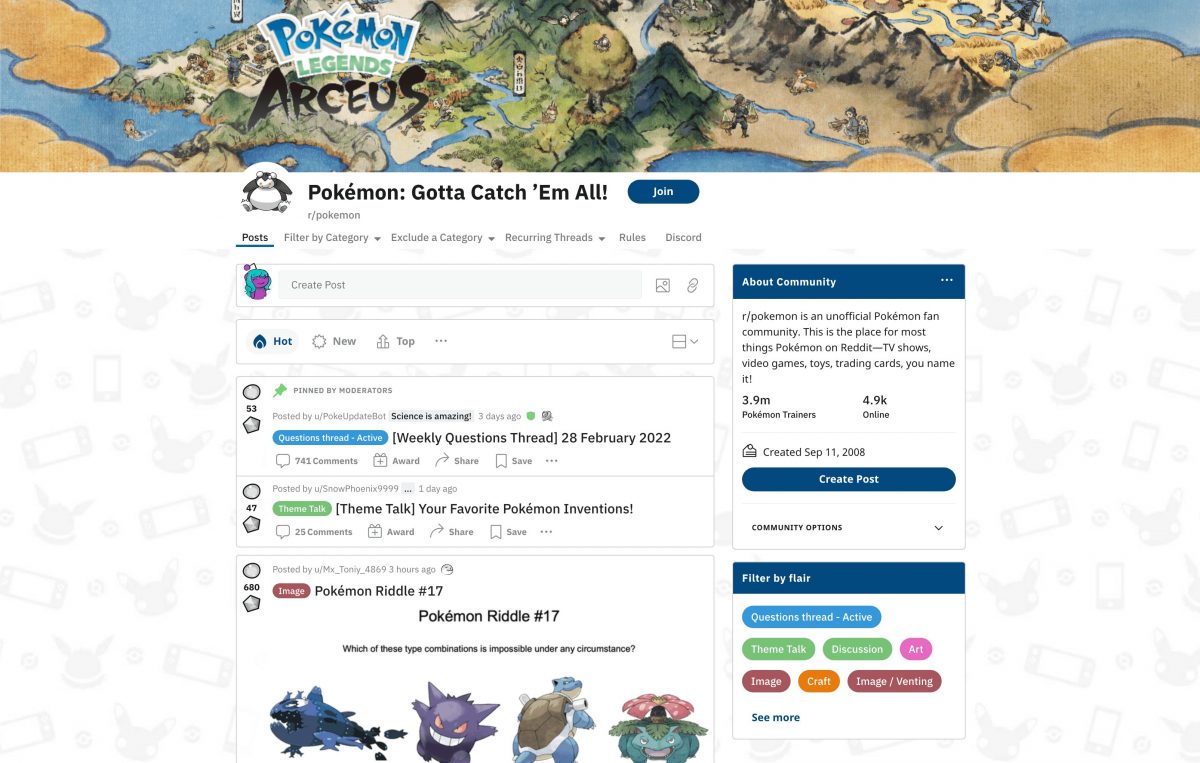 What is Reddit?
Reddit is a community platform that acts as the host for a large group of communities called subreddits focusing on a variety of niche topics. On Reddit, you can:
Join multiple subreddits related to your interests and form bonds with other users by creating posts and interacting with their content.
Create content flairs to organize created content within your subreddit feed.
Leverage live streaming via Reddit Public Access Network or engage through Reddit Talks to allow real-time conversation with community members.
Support community members by offering additional resources or including an FAQ section.
Community members give each other awards as a way of recognition and those awards can have certain perks.
Using Reddit for your community of course has pros and cons, but to help you determine if Reddit could be the best fit for your community, we've outlined some key takeaways about the platform below.
Ideal for communities that:
Don't want to worry about infrastructure or hosting costs
Are just getting started or already have an established community
Don't need a white-labled solution
Have a target audience that is already using Reddit
Hosting:
Not necessary, your subreddit is held within the Reddit platform
Data:
Owned by Reddit unless you centralize your user data in an alternate platform
Platform additions:
Bots
Common use cases:
Niche topics, such as:

Bread baking
Electric guitar
PC building
A celebrity

Product reviews
Events

Movie releases
Conventions
Concerts

Lifestyle and special interest content
Gaming
Music
Brands
Podcasts
Benefits:
Easy to use interface that's accessible through both desktop and mobile devices.
Large bot development capabilities.
Live streaming and voice call functionality.
The Reddit platform is completely free and gives the subreddit owner the ability to create a stable community without needing to worry about hosting or site maintenance.
There's SEO benefits with subreddits ranking in Google searches.
Why treat Reddit as a community?
Having a subreddit allows for a dedicated space where people with common interests can join and connect with one another whether the topic is recipes, guitar lessons, or organic chemistry. You're creating an experience for members with a branded and easily usable subreddit that is engaging and focused on the needs of the users.

What are community principles?
We mentioned before that we've developed a methodology that we use when we work with communities and these strategies have become our community principles. When these principles are implemented, they focus on eight crucial areas that ensure a strong community no matter the platform or topic.
Below, we're taking a more in depth look at some useful concepts on how to apply the community principles to your subreddit and what each principle means in additional detail. Each community is unique, so please keep that in mind and use the ideas, strategies, and tools that make the most sense for you and your members.
Ways to apply community principles to Reddit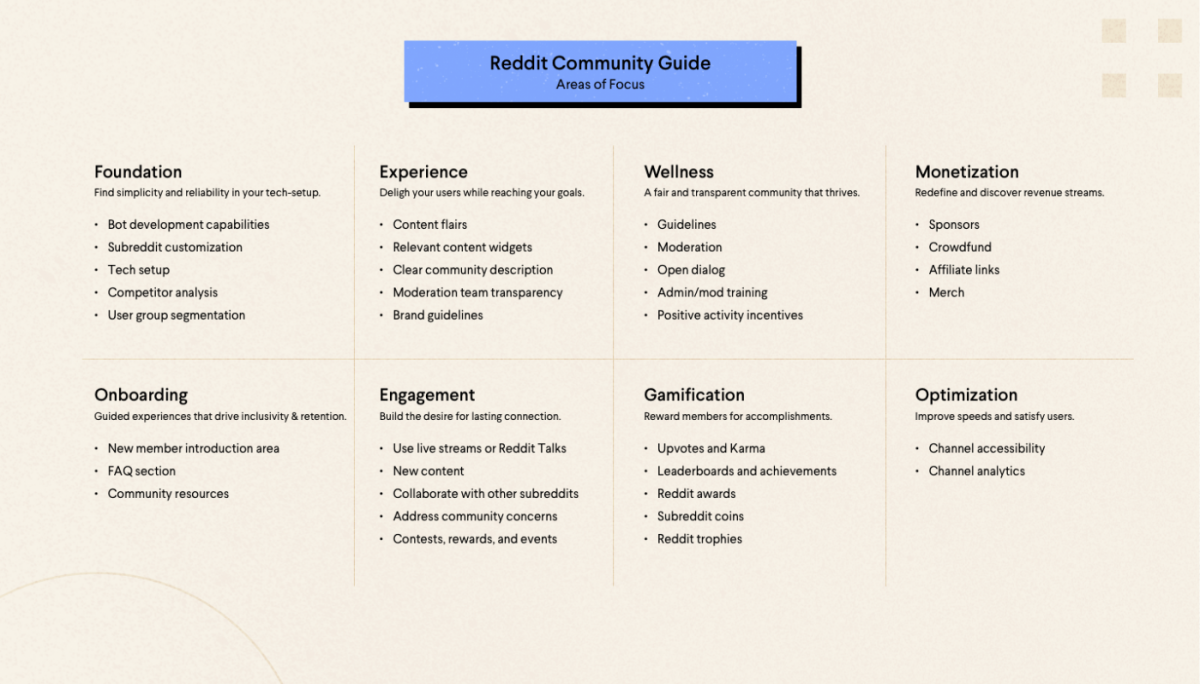 Foundation
To ensure an effective infrastructure you need to make sure you're using the right software and tools. Those ideas and components make for a strong community foundation.

Ideas on how to improve foundation:
Utilize Reddit bots for additional assistance with replying to posts or moderation
Customize your subreddit with brand colors and unique resources to make your community distinct
Integrate with your personal website or a mailing solution to centralize your user data and communicate with them on your own terms
Analyze competing subreddits to look for vital functionality and help your community stand out
Segment your users into roles in order to have a better understanding of your community via analytics
---
Experience
Ensure an easy and intuitive user journey by focusing on experience and aesthetics within your community.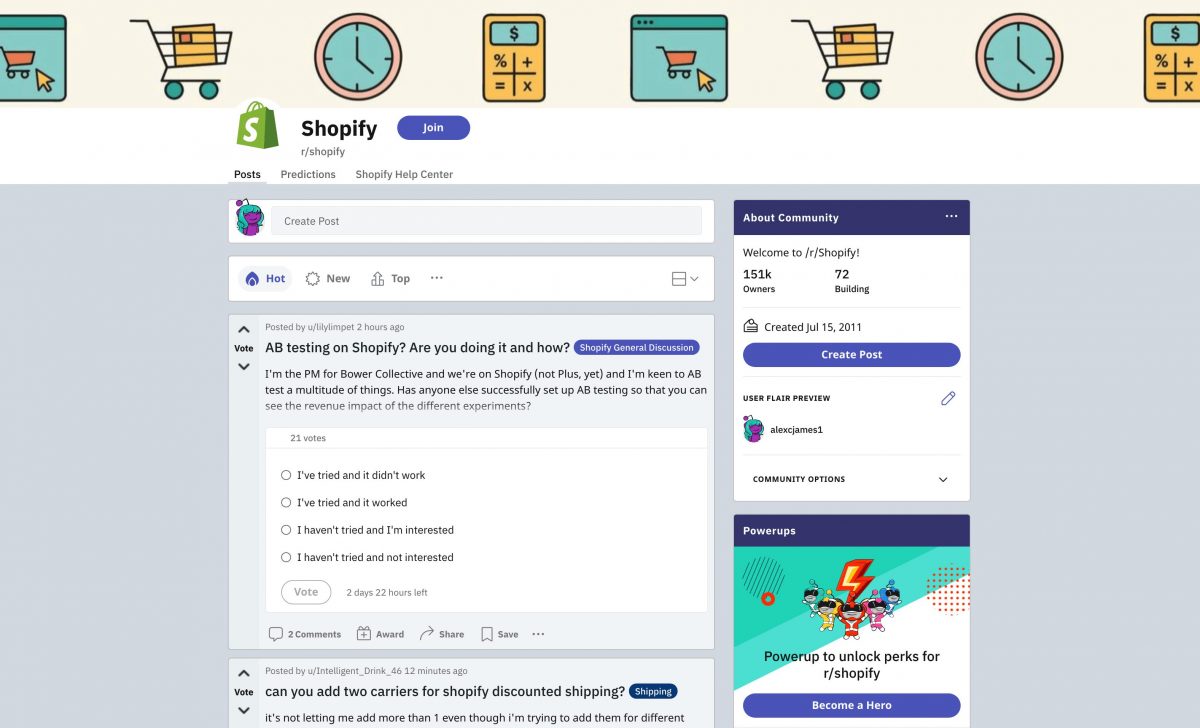 Ideas on how to improve experience:
Use flairs to make custom categories for all content within your subreddit and assign them to content as needed
Link related communities within your subreddit for easy access
List your moderators in the sidebar for transparency
Have a clear description of your community that will display in a sidebar widget within your subreddit
Create a brand style guide in order to have matching colors and imagery across your community
---
Wellness
A healthy community culture is vital for a successful community. All members, admins, and moderators play a role in creating a non-toxic environment and the wellness of a community plays an important role in onboarding users, engagement, and user retention.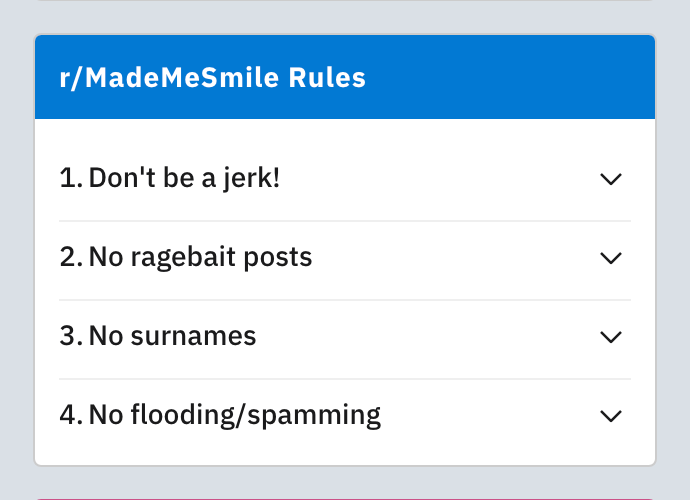 Ideas on how to improve wellness:
Train your admins and moderators and set community management expectations
Help everybody play by the rules by showcasing guidelines and rules in a clear, effective manner and follow through on the expectations you set
Monitor content for toxicity
Have an open dialogue with your users through regular community updates
Encourage positive activity by awarding karma
---
Monetization
Creating a subreddit is free, but running and maintaining a community can be costly. Planning a structure to cover any costs that arise from management can help ensure long term community stability.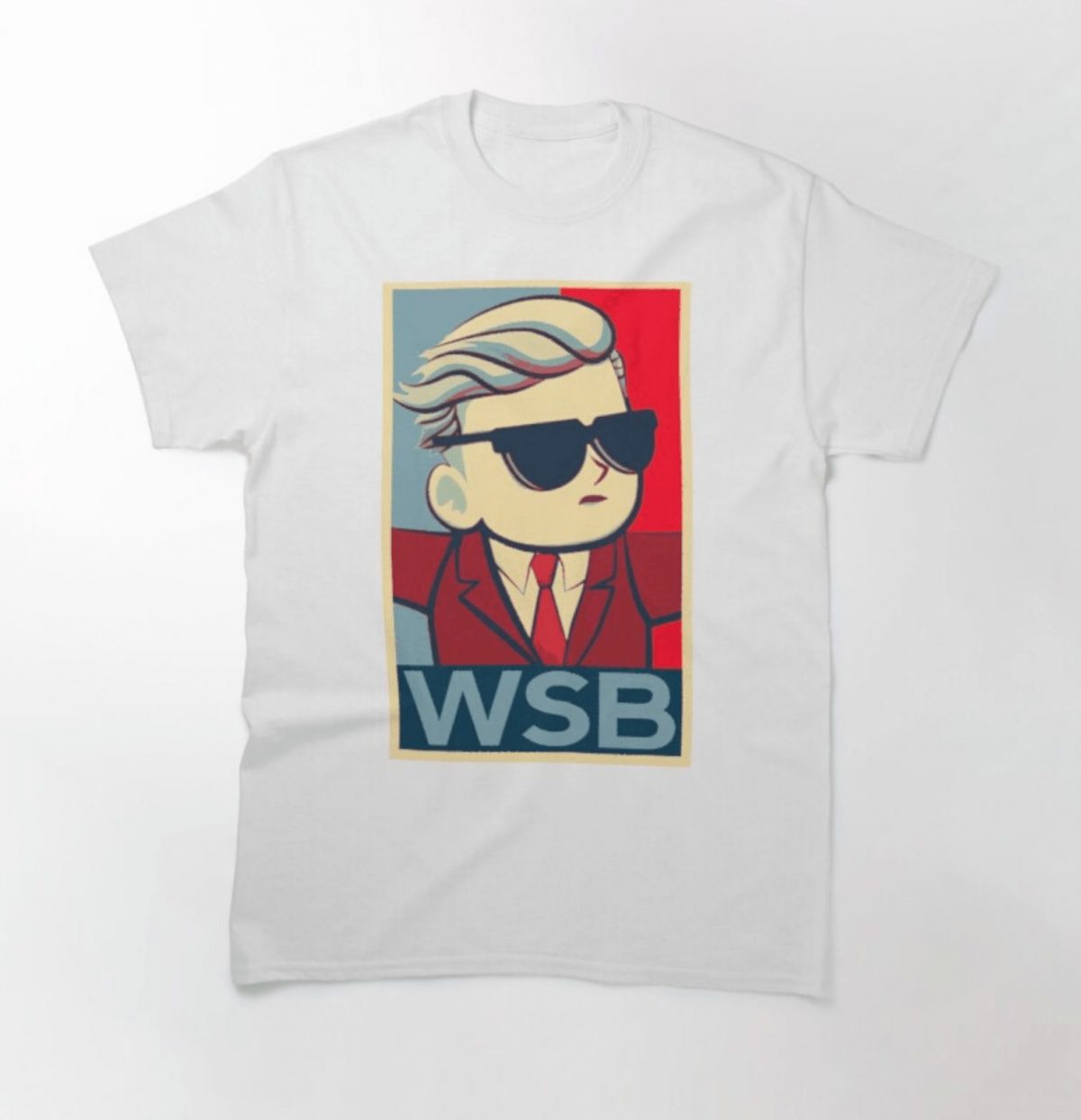 Ideas on how to improve monetization:
Establish sponsors with links to your subreddit
Crowdfund so members of your subreddit can invest in the community itself
Promote products to your viewers with affiliate links
Sell custom merch to community members
---
Onboarding
A user's first steps within your subreddit can determine whether they'll be a long-time returning member or never return again. Creating a unique experience and place for new users to introduce themselves can be easy methods of improving retention and engagement.

Ideas on how to improve onboarding:
Create a pinned message to welcome new users and introduce them to your subreddit
Provide new users additional resources to help them better immerse themselves in your community
Add a FAQ section to reduce duplicated content and help users get the answers they need
---
Engagement
Users should always feel incentivized to return to your community and either create content from scratch or interact with other users such as asking questions, sparking conversations, or running contests.

Ideas on how to improve engagement:
Regularly add in new content to your subreddit
Engage members to keep them coming back with fun contests, giveaways, and special events like live streams or Reddit talks
Address community concerns to make sure users feel heard
Collaborate with other subreddits to spike engagement and retain new users
Create chat threads regardless of your subreddit topic to provide a more relaxed way for members to chat with each other
---
Gamification
Incentivize participation and provide a sense of accomplishment to members by rewarding them for engaging in valuable activities.

Ideas on how to improve gamification:
Reward users for content you find valuable by providing upvotes and karma
Award achievements and use leaderboards on your integrated user data centralization platform to inspire healthy competition between users
Assign Reddit awards to your favorite posts to highlight content you value and reward the contributor
Create community specific coins to reward your users
Recognize users earning Reddit trophies for posting a link, writing a comment, or contributing a photo
---
Optimization
Optimizing your community will lead to better understanding of your user base, improved user experience and positive impact on engagement, retention, and a variety of other metrics.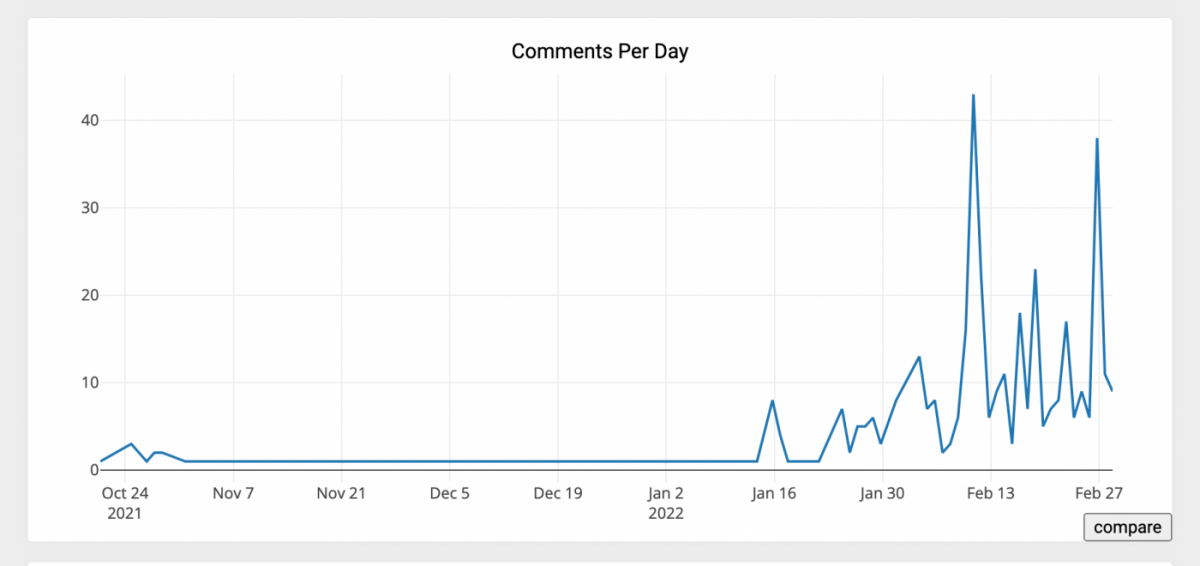 Ideas on how to improve optimization:
Make your server accessible by enabling accessibility settings, adding bots, and using colors with good contrast
Monitor community activity and traffic statistics to inform your subreddit trajectory
Let's wrap it up
Regardless of the size of your subreddit, Reddit allows your users to engage through community posts and through live-chat in live streaming and voice chat through Reddit talks. 
Subreddits can be an ideal solution for any community or industry because Reddit caters to a wide audience of users. This guide has been a high level overview of strategies you can implement to build or improve your subreddit and we'll continue to share best practices. Of course, each community is unique, so do what works best for your user base, but we hope that implementing these strategies can provide easy wins for your community and your members.