An online community is best defined by its members and how they interact with each other. With a wide variety of users having many different interests and engagement levels, you may think you have little control over your community. Instead, there are actually many steps you can take to ensure that your community members and their interactions are of a higher quality and more in-line with your goals. By having a system for segmenting community members, you'll be able to determine the needs of each specific community subset and, in the end, give your community members the attention and resources they need to become active and healthy members in the long term.
What is user segmentation?
To segment users, you will need to separate them into defined groups, or segments, based on any traits they may share. For example, you could separate them based on registration date, number of posts, time online, or reaction score. These are just a few examples of segmentation options and there are many different types of criteria can be taken into account when dividing users into groups.
Why is segmenting your users useful?
Segmenting community members can help you better understand them which can then guide future decisions. You can start to watch for trends like an increase or decrease in activity in a segment and look for a way to capitalize on positive trends or mitigate negative ones. Other benefits include:
More effective and informative results from user surveys
Targeted marketing
The ability to track user journeys and discover commonalities
Our standard segmentation (NASA) model
One metric that we use to classify members is by their overall contributions. Here's a high-level breakdown of the segments we use based on contribution using the NASA model.
Level 1: New member
New members should have special treatment as they are the most likely to quickly discontinue engaging with the platform. Using gamifying and onboarding strategies from the beginning such as getting them to make a post or getting them to set an avatar will give them the best opportunity to become a full member of the community. They may only interact once or twice during the course of their membership. During this period, you should be providing as much guidance to new users as possible and there are a few important things you'll need to do in order to help guide new members beyond the usual introduction to the rules.
A new member's actions should be heavily limited. The primary reason behind this is because you'll most likely see a large number of spam registrations. Keeping new members limited in access helps you prevent spammers from harassing your community. Those limits include requiring moderators to review all posts before being published, preventing access to other sections of the community (such as an off-topic/members lounge section), preventing use of signatures and private messages, and more.
Once new members reach a certain threshold (such as a number of approved posts or positive reactions) dependent on your community's size, they then move on to the next step.
Level 2: Accepted Member
Once a new member has proven themselves, they move into the "good fit" tier. This grants them further access to the community, such as access to a member's lounge, private messages and more. An accepted member actively checks back a few times within the lifespan of their membership, sometimes interacting with an email, but more often reading the content of others rather than posting their own. Because they do not post often, their face is not necessarily well known in the community, but because they do have a post history, they are confirmed to not be spam members.
One important aspect of the "good fit" member is that you're no longer holding their posts in the moderator queue before publishing. Instead, members in this group will be able to post normally and if something was to slip by the moderation team, other users can report undesirable content.
Level 3: Standard Member
A standard member is regularly active on the site and will check in a few times a month or weekly. These members will post often and have made connections with other members of the community, but do not have any sort of leadership qualities as they do not go out of their way to answer questions or welcome new members. Members of this group get to enjoy the full features of the community platform, and are no longer directly monitored by the moderation staff.
Level 4: Ambassador Member
Ambassador members are leaders in the community and very well known. These members are often the most vocal and check back multiple times a week if not daily. Also, they often will help answer questions or welcome new members to the site and can be seen as part of the face of the community. These users are more seasoned members and have been regularly engaging on the site for several years.
Segmentation criteria examples
Our method for determining segmentation combines several criteria, but segmenting community members can often vary based on your community and what type of information you are looking for.
Here's a few criteria you could use to help segment your users:
By content
Posts total
Threads total
Media total
Registration date
Login frequency
By positive impact
Reaction score
Upvotes
Best answers
XP (Experience Points)
Time spent online
Total
Per day on average starting from registration date
Financial contribution
Active subscription duration
Amount of donations
Total spend
This is not exhaustive, and each community may have its own metrics that help segment more effectively.
Segmentation implementation examples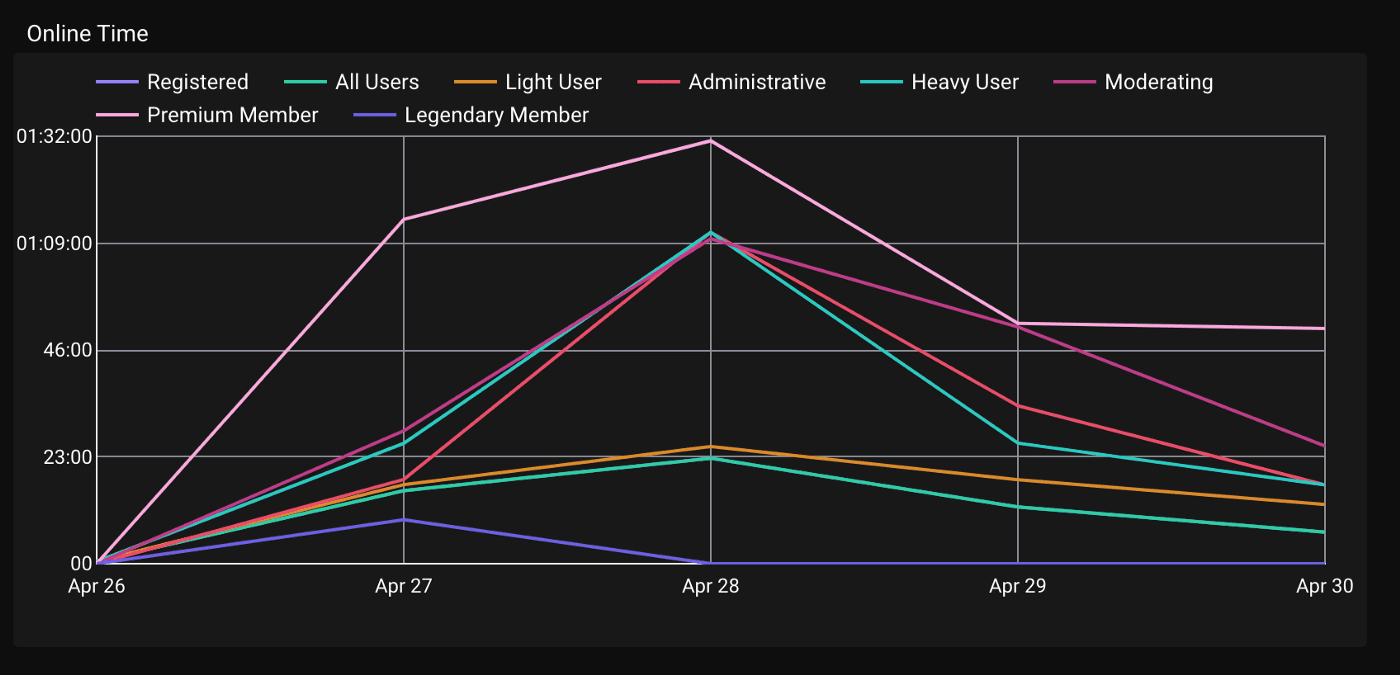 The values here are not as important as the general idea. You can tweak these values based on your need, but this should serve as a starting point.
New Member
The user has posted no more than 2 messages
Time spent online is less than 3 hours AND Registration date is less than 10 days ago
Full Member
The user has posted between 3 and 49 messages
Time spent online is between than 4–20 hours and AND Registration date is between 11 days-1 year ago
Active Member
The user has posted between 50 and 499 messages
Time spent online is between 21–249 hours AND Registration date is between 1–3 years ago
Ambassador Member
The user has posted more than 500 messages
Time spent online is between 250–300 hours AND Registration date is more than 3 years ago
Conclusion
To better understand the users in your community and have them thrive, segmenting users can help you determine points of similarity between successful users and nurture those same qualities in others on the path to becoming active or ambassador members.
We hope these steps will help you grow a community that matches your vision! Building a community full of quality members can be done with the strategies above, but also by spending time to guide members through each step. By the end, you'll find you've got a good core group of members that match the goals you have for your community.