Sniper's Hide is a community for snipers of all kinds, focusing on long range shooting, accuracy, and ballistics. Founded in 2000, Sniper's Hide offers informational training videos, podcasts, and community support for gun enthusiasts. They came to us with a clear vision for their site, goals being:
Custom WordPress development for a bridge between their editorial site and their community
A cohesive experience with a matching design between sites and page wrapper for a consistent header and navigation
Cross-pollinated content between both sites so that articles could have discussions hosted in the community and community members could be alerted to new articles posted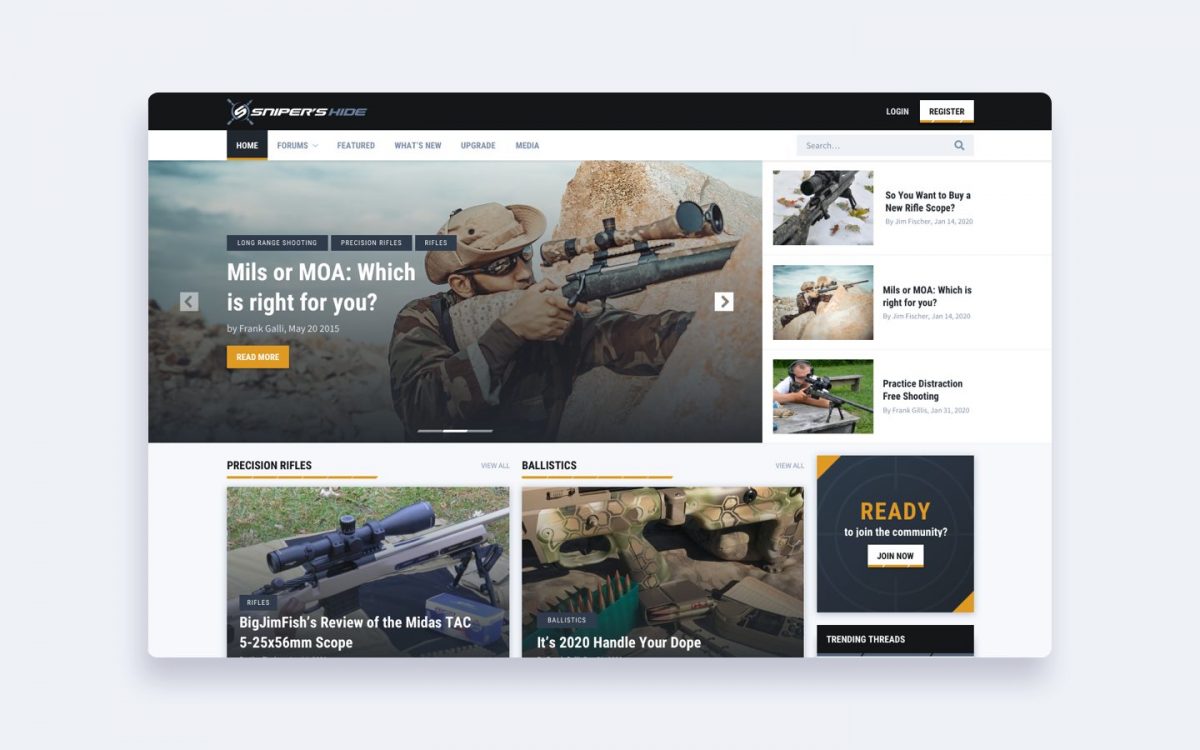 WordPress design and strategy
Prior to jumping into development, we wanted to create a consistent design plan and strategy to make sure that we have a baseline and reference during the development process. We started by creating a homepage wireframe focused on their user experience, careful to not adjust the experience too drastically to not alienate existing users. We worked with Sniper's Hide to finalize the design and once approved, used it as a basis for the remaining pages in WordPress and the theme for their community.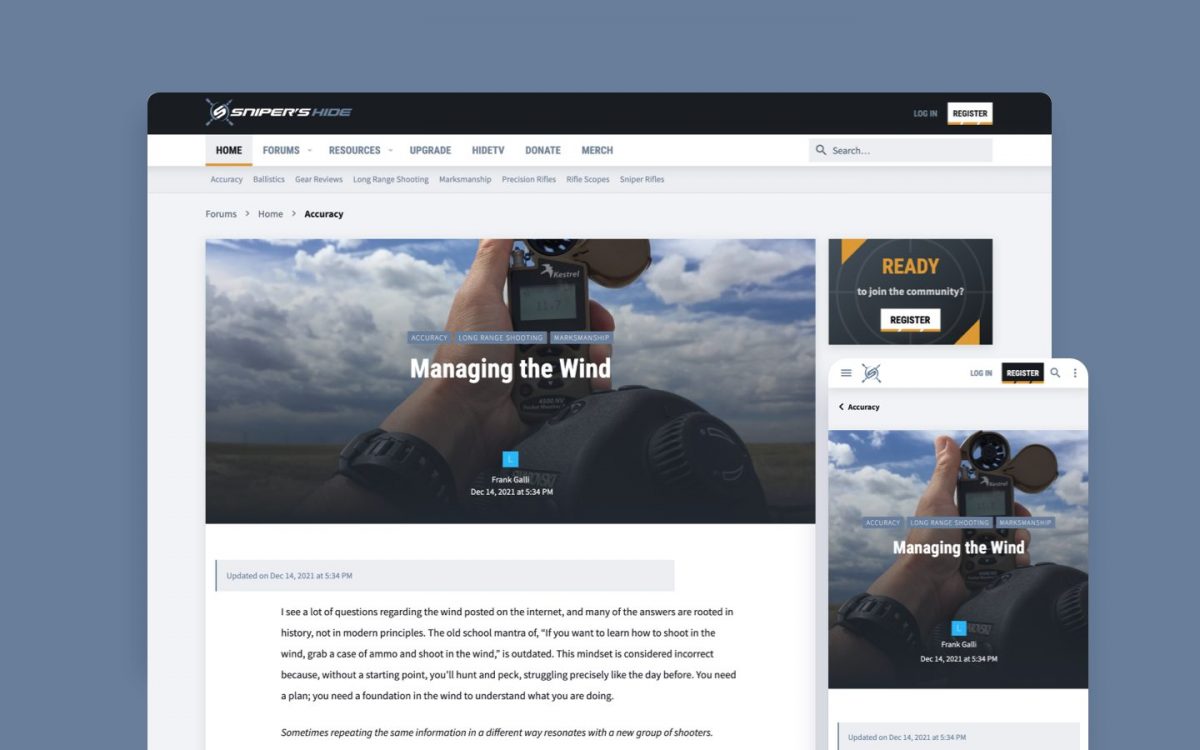 WordPress development
To start the WordPress development portion of the project, we updated the community software and WordPress software to the latest versions. To create the optimal experience for their users, we created a fully custom theme with branding and elements unique to their site. We also handled performance optimizations and implemented accessibility tools so that the site would run quickly and be usable by everyone in their community. The result was a custom theme consistent across their editorial site and community with full support for modern browsers and devices.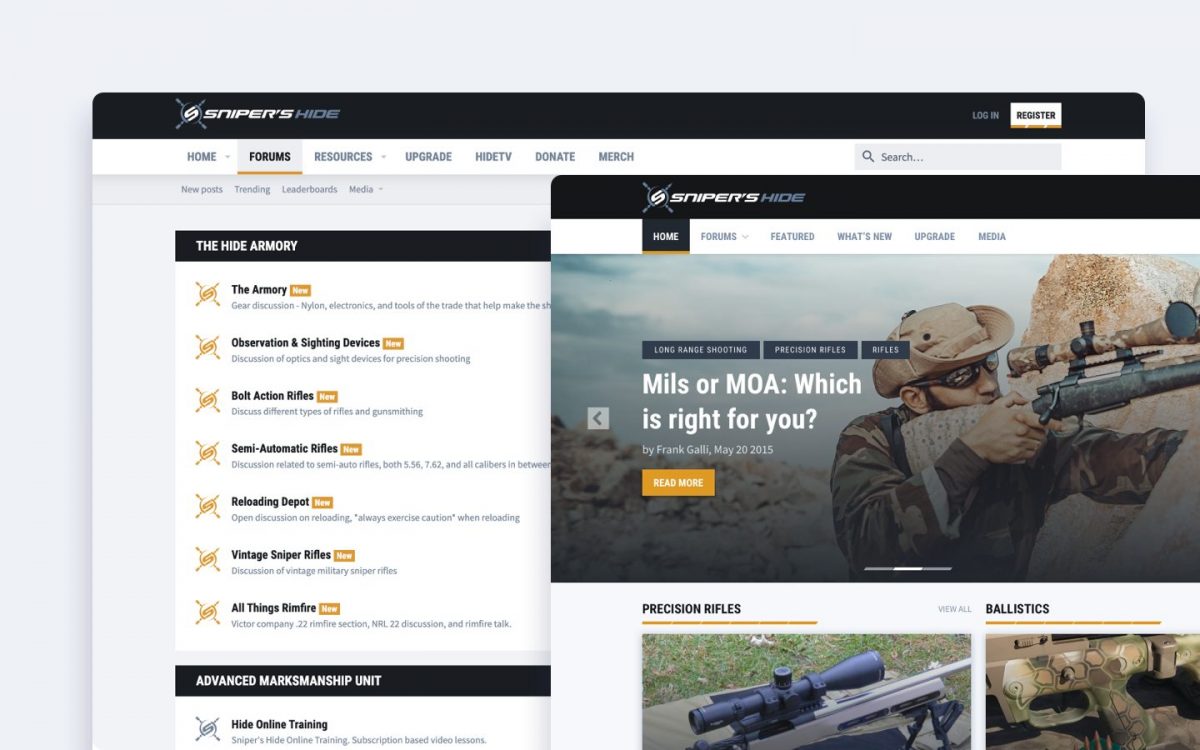 Integrating with WordPress
After designing and developing our WordPress theme, we developed a WordPres integration, or a bridge between WordPress and their community software to create a seamless transition between two parts of the site.
How implementing the WordPress integration helped:
Single-sign-on
Shared sidebar widgets between WordPress and their community software
Manage all navigation items from a single area in their community software rather than needing to manage in WordPress as well
Give the option to use community threads in WordPress comments
Support and maintenance
Once we successfully launched their new WordPress and community experience, we continued to partner with Sniper's Hide for ongoing support and maintenance. We have consistently monitored their platform to make sure their plugins and software are up to date, theme functionality is maintained throughout site updates, and we've acted as a consultant for ongoing feature development as the site grows.
Conclusion
As the Sniper's Hide community has grown with new training content, a growing and engaged user base, and the introduction of live events, it's been wonderful to see this growth and be a partner in the process. As they've gained more users, we've maintained their platform, developed new features to keep their community new and engaging, and acted as support so that Sniper's Hide can focus on creating content rather than maintaining their platform. If you'd like to see more about how we can help with your WordPress project, check out our services.